Our cybersecurity guru Brian Krebs reports this morning "Identity thieves who specialize in tax refund fraud have been busy of late hacking online accounts at multiple tax preparation firms, using them to file phony refund requests."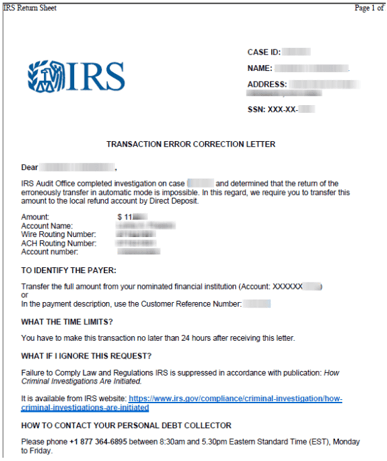 The scam that Krebs reports this morning is a new twist on an epic-scale hack that we began reporting on back in 2016 when 60 Minutes declared Florida ground-zero for the emerging threat. Read more.
"Once the Internal Revenue Service processes the return and deposits money into bank accounts of the hacked firms' clients, the crooks contact those clients posing as a collection agency and demand that the money be "returned."

Brian Krebs, Feb.18th 2018
The strategy the cyber criminals use in this evolved version of the IRS tax scam is especially effective because it uses tax-payer information stolen from accounting firms. Krebs continues in his report"
"All of these details no doubt are included to make the scheme look official; most recipients will never suspect that they received the bank transfer because their accounting firm got hacked."
Hackers today are as much "social engineers" as they are computer criminals. Do not be fooled by the personal and professional appearance and approach of their scams.
Krebs, the #1 cyber criminal gumshoe on the planet estimates hundreds of thousands, if not millions of U.S. tax-payers have been victimized. The potential financial loss and tremendous inconvenience is potentially life-changing for many of them.
The IRS issued a warning to tax preparers on Feb. 2nd 2018, urging increased awareness and vigilance.
"Tax Pros Urged to Step Up Security as Filing Scheme Emerges, Reminded to Report Data Thefts."

The

Internal Revenue Service, Feb 2nd, 2018.

Read more.
On Feb. 13th, the IRS warned again and called the activity a "quickly growing scam."
"Scam Alert: IRS Urges Taxpayers to Watch Out for Erroneous Refunds; Beware of Fake Calls to Return Money to a Collection Agency."

The Internal Revenue Service, Feb 13th, 2018.

Read more.
If you suspect you have been a victim of any variation of the tax-refund scam, the IRS advises these follow-up steps as outlined in the "Taxpayer Guide to Identity Theft" available here.
To read Krebs' full report "IRS Scam Leverages Hacked Tax Preparers, Client Bank Accounts" click here.
If you are interested in learning more about how to protect your personal information, reduce your digital footprint, and reclaim your digital identity, please contact us.