The thing about cybersecurity is you have to defend successfully 100% of the time. The hacker, on the other hand, only has to succeed once. In other words, when protecting from online risk, if you lose a single battle, you'll probably lose the war. But, for the hacker, one win and its total victory.
In cybersecurity, the battlefield is asymmetrical, with the attacker at a great advantage, and the fight is a long slog without rest. It takes a consistent state of high performance to compete successfully in cyber warfare, and defenses must be best-in-class and on the job at all times.



For these reasons, we're proud of F-Secure for again winning the 2020 Best Protection and Best Performance awards from the AV-Test Institute, a prestigious 3rd party IT security research firm.
F-Secure is Rated #1 Again
Total Digital Security operates as an "open platform," meaning we are not beholden to any vendor or provider. This way, we choose best-in-class solutions according to our client's needs and are "open" to co-opting the best innovation coming from the IT security industry.

Since 2014, we've provided clients with F-Secure's business-grade solution for protecting their Windows and Apple computers, laptops, and servers. F-Secure has consistently proven itself to our customers and us, and the recent award from the AV-Test Institute recognizes the reasons why.
✓

F-Secure was awarded 'Top Product' in all the six tests conducted by the institute in 2020.
✓

F-Secure is the only vendor to win AV-Test's prestigious Best Protection award seven times; 2012. 2013. 2014. 2016. 2018. 2019, and 2020.
From the AV-Test Institute in their annual awards report for 2020.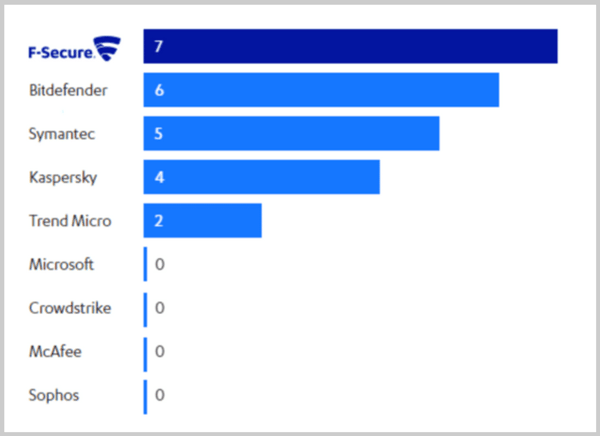 Retail antivirus software is not up to the task of protecting computers and laptops from online risk anymore. It takes advanced science and technology to manage and optimize defenses continually, and F-Secure does it better than anybody else. To see how they do it read more here, and for information and purchasing, click here.
✓ Whether you are an individual, a family, a professional, or a business, nothing works better than F-Secure PSB for protecting Apple Macs and MacBooks, Windows PCs, and Android mobile devices.
FBI Internet Crime Report for 2020
For 2020, the FBI report says complaints were up 69%, and $4.2 billion was lost in the U.S. to cybercrime and fraud.
✓Senior citizens suffered a significant part of the overall cybercrime damages at $966 million.
No one is surprised that the top crime reported for 2020 was phishing, with 241,342 complaints.
These numbers make it clear; the best defense against cybercrime is awareness and critical thinking with your email inbox.
✓ The best way to avoid the #1 risk of internet fraud is learning to identify email phishing and spoofing from your inbox. Here's how.
Privacy and Personal Safety
We think it's important to share that we see a meaningful though unsettling trend. More people are coming to us because they are in or have left an abusive relationship of one sort or another. Whether it is an ex, a neighbor, or a co-worker, they are being stalked, harassed, spied on, and broken into.
Everything from internet devices and appliances to email and online accounts became suspect and distrusted in these cases. It's unnerving to witness and a reminder that privacy is not only at the core of security and personal safety but critical to emotional well-being too.
✓ Cases involving cyberstalking and spying demonstrate the immense power in aggregate personal data, especially in the hands of one that doesn't have your best interests at heart.
Finally, let's not forget, while we're pleased F-Secure has delivered again and continues to win against hackers and online crime, cyber warfare against your technology will never relent. Besides advanced technology to defend, personal vigilance, critical thinking skills, and common sense will always be paramount to survival and success in the digital age.