Even the most secure home is never completely safe. Intruders can find ways to break in, whether it's through back doors or loose windows, or even through more malicious means. The same is true of your computer network. Hackers have ingenious systems that deploy agents or scanners to check every possible way in -- for open doors to nudge their way through -- specifically to invade your privacy and cause harm.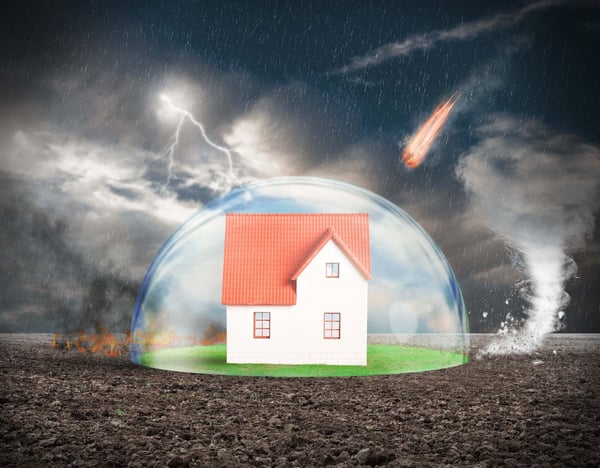 Now, more than ever, home and office network security is essential.
What is home and office network security?
Network security is the security system provided by a powerful software that makes it as difficult as possible for potential intruders to gain access to the valuable data traveling across your network.
Total Digital Security's home and office network security system is preconfigured with solutions, providing automatic updates in real time, and a multilayered protection system that detects and repels any attempted invasions.
What makes my home or office a target?
No matter how large or small your home or office, or the amount of valuables inside it, if your home contains internet-connected devices, those devices are sending and receiving valuable data every day, all day. With the increasing presence of smart homes and the "internet of things," where even your doorbell can be connected to the internet, safety-minded individuals know that a home security network is as important as the locks on your doors, and possibly even more so.
Hackers are the modern day playground bully, but worse.
Some pretty high profile hacking cases have occurred in recent years, the most infamous being the various celebrities who have had their pictures and videos stolen from their cloud accounts. Even worse, hackers can gain access to the camera on a computer, which can lead to dangerous invasions of privacy. These are the modern day bullying stories that make it to the headlines, but these incidents are nothing compared to the millions of attempts that occur every day, without our knowledge.
The unfortunate truth about modern day bullying is that much of it now occurs online, and it isn't confined to the lives of teenagers. Without home network security, entire families have been victims of years-long harassment campaigns, harassed by internet trolls who found a way into their home networks. Police cars and fire trucks have arrived at their house in the middle of the night to respond to fake hostage calls. Bomb threats have been made under their names.Their email and social media accounts have been hacked, and used to bring ruin to their social lives. They've lost friends, and relationships and jobs, not mention their security and peace of mind.
And with the growing number of internet-connected devices that we use every day, it's easier than ever to lose sight of what's running on our networks. The scary part is that many of these devices aren't being developed with security in mind, which leaves lots of room for vulnerabilities. This article even warns against some children's toys.
For an in-depth report on wireless network threats, read "Proximity Breeds Danger: Emerging Threats in Metro-area Wireless Networks." This article explains the increased threat caused by numerous wireless networks within a single location, such as in apartment buildings or condominium complexes.
The most important point to remember is to never get complacent about your home or home office network security.
But you don't have to worry. You can easily and affordably protect yourself and your family with home network security from Total Digital Solutions.
How to Set Up a Secure Home Network (DIY)
For Do-IT-Yourselfers, setting up a secure home network means purchasing expensive and sometimes complex hardware that requires knowledge of how to install it, how to program it, how to maintain it, and how to apply the latest security patches to keep it up-to-date. It requires time, expertise, and consistent monitoring.
How to Set Up a Secure Home Network through TDS
For security-minded individuals who want the best that money can buy, Total Digital Security can provide, monitor, and manage a complete home network security package.
Whether you're an individual with a few portable devices, or a family of four with devices ranging from desktop computers to TVs, gaming devices, tablets, laptops, speakers, personal digital assistants and phones, our cyber security solutions protect your data to the highest degree possible. Our home networks security provides multiple layers of protection.
Network Security Layer #1: Firewall
Your first layer of network security is provided by a firewall, which is a way of controlling traffic coming into and leaving your devices, offering an added layer of protection by preventing an unauthorized user from accessing a computer or network.
Network Security Layer #2: Automatic Encryption
Automatic encryption means that the person using the device doesn't have to do a thing -- that without any additional action on the part of the user, any data traveling on the network will be automatically encrypted, or changed into unreadable code. This means that no one can read a password, username, account number, credit card number, or any other personal information traveling through the network.
Network Security Layer #3: Web Content Filtering
This system is applied to the network and prevents access to malicious websites containing harmful and aggressive systems for information gathering, and allows you to control access from your network to external domains. Levels of use and access can be controlled and monitored.
Network Security Layer # 4: Advanced Threat Detection
This system monitors content moving through the network to detect suspicious and malicious incoming information in real time. The information is then blocked and quarantined, generating an advisory so that you can decide what to do next. All of this is done automatically and seamlessly, so that you're only made aware when necessary.
You can check the security of the network you're on right now, in just 1-click:
Total Protection That's Simple and Easy to Use
Total Digital Security's home network security system requires no hardware expenses, no maintenance, and no long-term commitments. With 24/7 monitoring and management, the system is always current with the latest updates, patches, and cybersecurity intelligence.
For more information or if you have any specific questions please do not hesitate to contact us. You can call us at (877) 643-6391 or complete our Contact Us form and we will connect with you as soon as possible.