Private Email
Password Recovery and Reset
You can recover your password from the "Forgot Password" function on your webmail sign-on page, or email support@totaldigitalsecurity.com with your request. Include your phone number so we may verify the change.
To change your password, login to webmail and change your password from the Settings dropdown menu.
Setup & Installation Instructions
Download a PDF version of the Installion Instructions for Private Email Domains.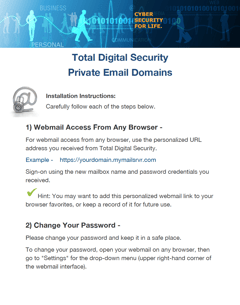 ---
Email Help and Support Tool
Have your email address and password ready to sign-on to the Help and Support Portal. Includes "Fix My Email."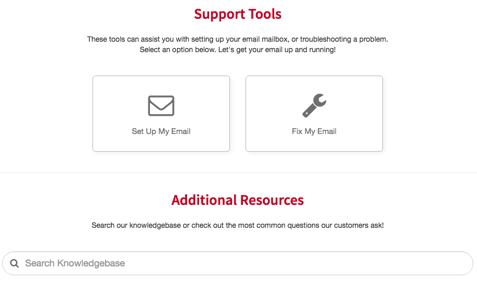 ---
Migration
Tips:
Keep your old email accounts open for a while and plan the migration as a "process" vs. the push of a button.
There are many features of your new email domain, and you will be interested in discovering them. But remember, it's a process.
Take each piece of the migration methodically and within the context of a plan for completing the migration, and having a regular operation that is fully functional.
Self-Migration Tool
Our awesome partners at RackSpace have provided you with this easy-to-use tool for email migration.
See the video on the right for a step by step instructional video.
Get Started
Be sure to have the information for your Source server, and Destination server.
Your new email uses RackSpace as the Destination Server. Chose "Rackspace Email" as the destination. See more server information on the right - "Rackspace Email and Hosted Exchange settings."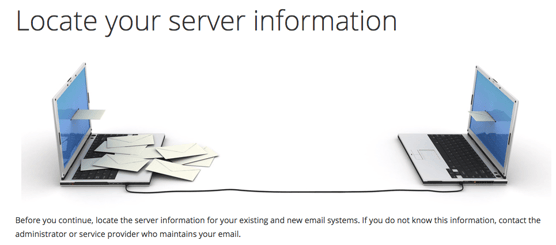 For detailed instructions using the Migration Wiz Tool - Click Here.
---
Managing MacMail Folder Behavior Across Mac and iOS Devices
First, remember that whatever you do on your Mac will also be reflected on your iOS devices too.
To make Mac Mail consistent across your Mac and iOS devices:
1. On the iOS device, open settings.
2. Tap Mail, Contacts, Calendars.
3. Tap the account you want to make changes to. (It's likely that you have more than one email account on your iOS device. If you do you'll need to follow these instructions for each of your IMAP accounts.)
4. Tap the email address for the account.
5. When the Account settings window appears, scroll to the bottom of the window and tap the Advanced button.
6. Take note of the four mailboxes listed under the section titled Mailbox Behaviors: Drafts Mailbox, Sent, Mailbox, Deleted Mailbox, Archive Mailbox.
7. Tap the Drafts Mailbox and you should see two sections: On My iPad and On The Server. (If you've been seeing the "Unable to Move" message, there should be a check next to Drafts in the section labeled On My iPad.
8. Tap the folder where you want drafts saved on your server.
9. Tap the Advanced button at the top of this window.
10. When you're done each of the Mailbox Behavior buttons should have the mailbox you selected listed next to it.
You will need to repeat this process for each of the Sent, Deleted, and Archived mailboxes on all of your iOS devices. You will also need to run through this process for all of your email accounts. But once you do, all of your devices will share the same mailboxes for all your mail.
---