SUPPORT BY PRODUCT
Device Protection
Installation Instructions and Links
For Microsoft Windows Devices:
Hi there,
This software is for your Windows computers. Your subscription license key is:
xxxx-xxxx-xxxx-xxxx-xxxx The subscription is good for x computer(s).
Before getting started, uninstall any 3rd party antivirus or internet security software on the computer. Windows Defender should be uninstalled or turned off.
You may want to "copy" the subscription license key number above to your clipboard in order to "paste" it to the subscription field later.
Do a Windows update and reboot on your computer before beginning the installation.
Installation Instructions:
Open this email on the Windows computer you are protecting.
Follow the instructions included with the software using affirmative prompts and recommendations.
Allow time for a complete download. Depending on your connection's speed, it can take up to 10 minutes to complete the installation.
f-sec_black.pngIf the F-Secure app icon does not display automatically, find the black shield-shaped icon in Programs and click to display. We recommend no changes in Settings.
This is powerful software. Please allow enough time to complete the download and installation without interruption - usually less than 10 minutes.
Finally, congratulations on choosing "Cyber Security for Life" by using the best device protection technology in the world.
Click to begin download and installation.
The installation file will be downloaded.
If it does not open automatically, find it in Downloads or on your Desktop, depending on your settings.
NOTE - If the downloaded file does not open properly after clicking, be sure the file has the extension; .exe after the file name
After Installation: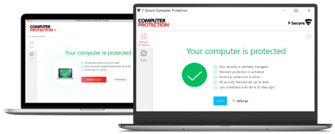 Leave the computer on and connected for several hours to complete the routine.
Look for our emails updating you on progress and observations, as needed.
Thank You.