"Cybercrime–What You Need to Know"
March 1st, 2017
Miami, FL

Register here: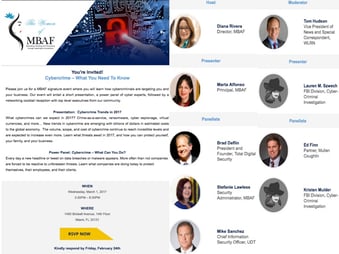 DATE AND TIME
Wed, March 1, 2017
3:30 PM – 6:30 PM EST
LOCATION
1450 Brickell Avenue
14th Floor
Miami, FL 33131
Cybercrime – What You Need To Know
Please join us for a MBAF signature event where you will learn how cybercriminals are targeting you and your business. Our event will entail a short presentation, a power panel of cyber experts, followed by a networking cocktail reception with top level executives from our community.
Presentation: Cybercrime Trends in 2017
What cybercrimes can we expect in 2017? Crime-as-a-service, ransomware, cyber espionage, virtual currencies, and more… New trends in cybercrime are emerging with billions of dollars in estimated costs to the global economy. The volume, scope, and cost of cybercrime continue to reach incredible levels and are expected to increase even more. Learn what threats await in 2017, and how you can protect yourself, your family, and your business.
Power Panel: Cybercrime – What Can You Do?
Every day a new headline or tweet on data breaches or malware appears. More often than not companies are forced to be reactive to unforeseen threats. Learn what companies are doing today to protect themselves, their employees, and their clients.
Host
Diana Rivera, Director MBAF
Presenters
Marta Alfonso, Principal, MBAF
Lauren M. Szwech, FBI Division, Cyber-Criminal Investigation
Moderator
Tom Hudson, Vice President of News and Special Correspondent, WLRN
Panelists
Brad Deflin, President and Founder, Total Digital Security
Ed Finn - Partner, Mullen Coughlin
Kristen Mulder, FBI Division, Cyber-Criminal Investigation
Mike Sanchez, Chief Information Security Officer, UDT
Event Agenda

Organizer:

MBAF

Organizer of MBAF Event: Cybercrime – What You Need To Know
MBAF is a nationally recognized accounting and advisory firm. More than 500 highly qualified professionals serve domestic and international clients across a broad range of industries and practices from our offices across the country. We offer a complete portfolio of services including assurance, tax and accounting, management advisory, private client wealth, and technology consulting. Let our insight and expertise guide you in making smart financial decisions and meeting your personal and business goals. www.mbafcpa.com