I started TDS in 2013 with a vision of significant change during our lifetimes.
I believed a new world order was at hand, and in the coming years, a fresh set of skills and sensibilities would be critical for survival and success. Driven by digital machines and global networks, I sensed the rate and scope of change would make the stakes high enough to deserve the tagline, "Cybersecurity for Life."
Well, the COVID-19 pandemic has rung the bell and a changing world order has begun its march across the globe. As Ray Dalio states in the first sentence of his March 25th thesis titled "The Changing World Order":
"I believe the times ahead will be radically different from the times we have experienced so far in our lifetimes, though similar to many other times in history."

Ray Dalio, March 25th, 2020
In his newsletters and best-selling books, Mr. Dalio credits the study of history for much of his success. He has a particular talent applying his research of the past to forecast the future. For over 45 years, he's been consistent and accurate enough in his craft to become one of, if not the largest and most successful money managers ever, and in doing so to become the 79th-wealthiest person in the world (Bloomberg.)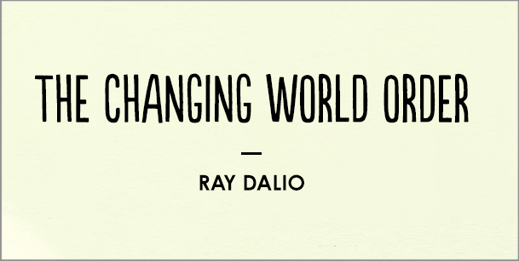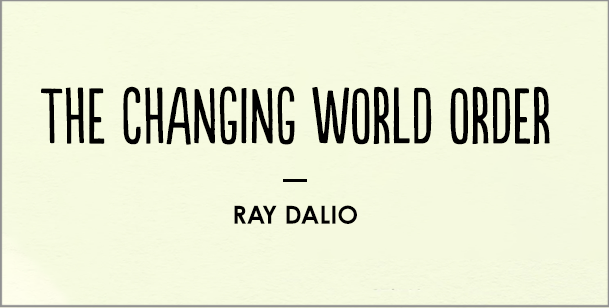 In "The Changing World Order," Dalio expresses profound concern for the present but reserves a measure of optimism for the future. He concludes that like past periods of great change, a "cleansing period" will re-sort the order of our future times.
"These bad periods were like cleansing storms that got rid of weaknesses and excesses, ...

... (and) eventually caused adaptations that made the whole stronger, though they typically changed who was on top and the prevailing world order,"

Ray Dalio, March 25th, 2020

So, you too can be optimistic about the future - as long as you are one of the adaptors and survive to find success as Dalio puts it, "... on top of the new world order." The sarcasm is intentional, but it's essential to know the stakes really are that high.
Consistent with Dalio's view of the risks and prognosis for the world's future, I believe it is less about skill and more about the ability to adapt that will determine the next generation of haves and have nots. I think the "cleansing storms" will take place over the networks that traffic change, physical and digital. And I believe the lack of broad preparedness is the existential risk of our age.
It's The Network
Mr. Dalio identifies specific if/then and cause-effect patterns to systematically make high-probability presumptions about the future. My focus is on the rails where these patterns and relationships take place - the networks. Physical or digital, social or mechanical, networks are where change plays out.
Network science has taught us much about the nature of interconnected nodes and links. The digital version of a network is fueled by exponential forces and the "network effect." I have beaten the matters to death, so I'll spare this month's reader's from "Moore's Law" and "Metcalf's Law of the Network." Nevertheless, while they continue to drive most change today, many still fail to understand the powerful currents underhand.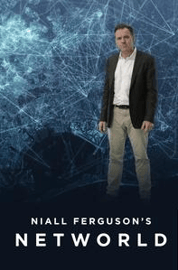 Networld
Just in time for a fresh and deeper dive into the role networks play in the order of things, PBS is presenting "Niall Ferguson's Networld."
This is a must-see documentary. Mr. Ferguson is arguably the preeminent expert on networks and the science and laws that drive their activity.
Ferguson is a Scottish historian and senior fellow at the Hoover Institution. Previously, he was a professor at Harvard University and New York University. You might remember his work, The Ascent of Money, which won an International Emmy Award for Best Documentary in 2009.
"Niall Ferguson's Networld" is a three-part series about network laws and patterns, their influence on history, and how they are driving the COVID19 pandemic.
Sadly, the COVID-19 pandemic is a living model for network activity in a global society. As the Associated Press said, he "... has a knack for timing his TV projects."
"The TV series makes clear that everyone has their own personal social network and it determines the probability of getting sick in 2020."

Mark Kennedy, AP, March 25th, 2020.
Networks have been around and influenced lives forever. Now, though, they are global and include a digital variation that is abstract and foreign for many.
"... there's one grand theory of networks that applies to everything. And if we only understood it as ordinary folks, we wouldn't be making a bunch of mistakes, like the mistakes we're making now."

Niall Ferguson, March 25th, 2020.
COVID-19 follows the laws of the network, as do digital versions of a virus.
The potential for a global contagion online is an over-riding message behind "Networld" and an understanding of networks is critical for privacy, security, and personal safety today.
You can access the PBS series here: https://video.wpbt2.org/show/niall-fergusons-networld/
Adapting and Planning Forward
TDS is in the business of helping others adapt to a networked world and the changing world order.
Our four precepts are:
Privacy is indispensable to freedom, democracy, and personal safety.

There is no privacy without digital security.

Ownership and control of personal information are vital to privacy and security.

Digital autonomy empowers ownership and control of personal information.
There is a lot of meat on those four bones above.
In #3 above, this relates to "information self-determination" - a term used by the Germans in their post-Third Reich constitution to guarantee never again will the state confiscate freedom and privacy.
In #4; digital autonomy is about de-centralizing from Big Tech, and it's why we say Private Email is Fundamental #1 to "Cybersecurity for Life."
For the people we help and us, these four precepts are the pillars to adapting and planning forward for survival and success in the changing world order.
Thank you for reading, and our sincere best wishes to you and all your loved ones during these extraordinary times.
Brad Deflin
For information about Managed Network Security and other cybersecurity solutions for home and office: