The New York Times' first Sunday edition of 2015 included an article included an article titled "How My Mom Got Hacked - Navigating the nefarious, shadowy world of cyber crime and ransomware criminals." This article; the subject, timing, and implications are all significant to you, your family, practice or business, and in today's blog we will explain why.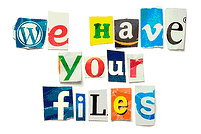 You can read the New York Times article here.
If you take a look back at our research and advice since 2013, you will see we were preparing our readers and customers for experiences and reports just like the one in the Times on Sunday. Make no mistake about it, this is the tip of the iceberg, and we are only at the starting line of what we expect will be a long five to ten years of harsh cyber-criminal activity that will profoundly affect not just your Mom, but every aspect of your personal and professional life.
There is nothing new to the Times' article at all, except for the important fact that it is in the New York Times. This stuff is happening every day. Do an online search of "ransomware", or "Cryptolocker" and see for yourself. Cyber-criminals don't care who you are because the probabilities of their success are very high, and the risks of getting caught, very low. Heck, recently they even got the Sherrif's office!

From our little corner of the world, the issue of cyber-risk victimizing your Mom and the Sheriff represents a clear validation of our thesis "The Democratization of Cyber-Risk". Now, because they can, and its where the money is, the most sophisticated hackers and ruthless criminal cartels on the planet, are working together and using their extensive resources collectively, to aim their looting and plundering not only at the large corporate, government and military institutions of the past, but at YOU, YOUR FAMILY, YOUR BUSINESS, and now even your MOM!
Ransomware is the evolution of extortion.
Ransomware is simply the evolution of extortion. The practice of holding up our technology for ransom is just getting started, but for professional criminals, it is the perfect crime. We will see the reporting advance quickly from a quaint editorial opinion, to dramatic reports of broad, volume-based attacks that will fundamentally change our thinking about the value of our privacy and digital security. If you are still thinking you, your family and business has "nothing to hide" online, think again. Whether or not we believe we have anything to hide, all of us have an awful lot to lose.
For more about why we think the greatest opportunity in the history of professional crime is now upon us, and how you should completely rethink your notion of risk, risk management, and the security and safety of your home, family, practice, and business, please read here:
Cyber-threat in mainstream life is growing, like technology itself, at exponential rates of change. The power of exponential rates can be hard to grasp intellectually, but mathematically the phenomenon is not anything you want to bet against, certainly not with anything meaningful to you or those around you.


It's time to decide. Will you wait until you must take action? Will you wait until you have to recover, and pay and cope with potentially years of expensive and tedious aftermath? Or, alternatively, will you be proactive, pre-emptive, and smart, by making the best risk/reward and economic value decision you can make in 2015, and prepare for the inevitable crime spree that is just ahead.
---
Now the good news; there are highly effective solutions, and they are astonishingly simple and affordable.