About the Freedome VPN - User Guide.
Status Bar

Your device's status bar shows a "VPN" icon when Freedome is turned on.
When you are not actively accessing the internet, the VPN turns off to preserve battery life and automatically turns on when you need it again.
Virtual Location


Virtual location protects your privacy and lets you access your favorite streaming services when abroad.
When you connect to the Internet, your device is assigned an address that identifies where you are.

With Freedome, you can select a virtual location. This gives your device an address in the selected country.
For best performance, I suggest the server nearest you.
Tracking Blocker
Nearly everything you do online is tracked, and the data is stored - usually by unaccountable parties, and for indefinite periods of time.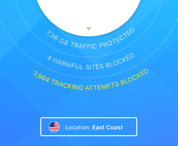 The data is meant to target and manipulate you either immediately, or at another time in the future.
The parties can be over-zealous marketers, criminal hackers, government entities - anyone that wants to access your information.
Freedome is different to other VPNs: it blocks intrusive trackers and makes your online browsing smoother and websites load faster.
Encryption and Tunneling
Encryption and tunneling are the two, key features of the VPN.
Not only are your online activities garbled to anyone on the outside, but your traffic is also routed around or through the "public" network - tunneled away from the hostilities the internet experiences more and more every day.

Stay safe out there by keeping your VPN "ON"!