I'm honored to have been asked back for my third consecutive Total Wealth Symposium conference! It was the Bahamas in 2015, Bermuda in 2016, and in 2017 we'll be meeting at the stunning Diplomat Beach Resort in Hollywood Florida to discuss the most pressing issues in cyber risk and cybercrime today.
The Equifax breach has sharply elevated cyber risk to new levels once again and clearly, this year, we need to be as sharp and forward-thinking about cyber attacks as ever. Previous symposium attendees will tell you I have said this about one breach or another in every year past. And, they're right. Unfortunately, but realistically, this is a predictable pattern. We need to expect, plan, and prepare for serious increases in cybercrime rates along with increased relevance to our everyday lives for many years to come.
Then, there's the good news!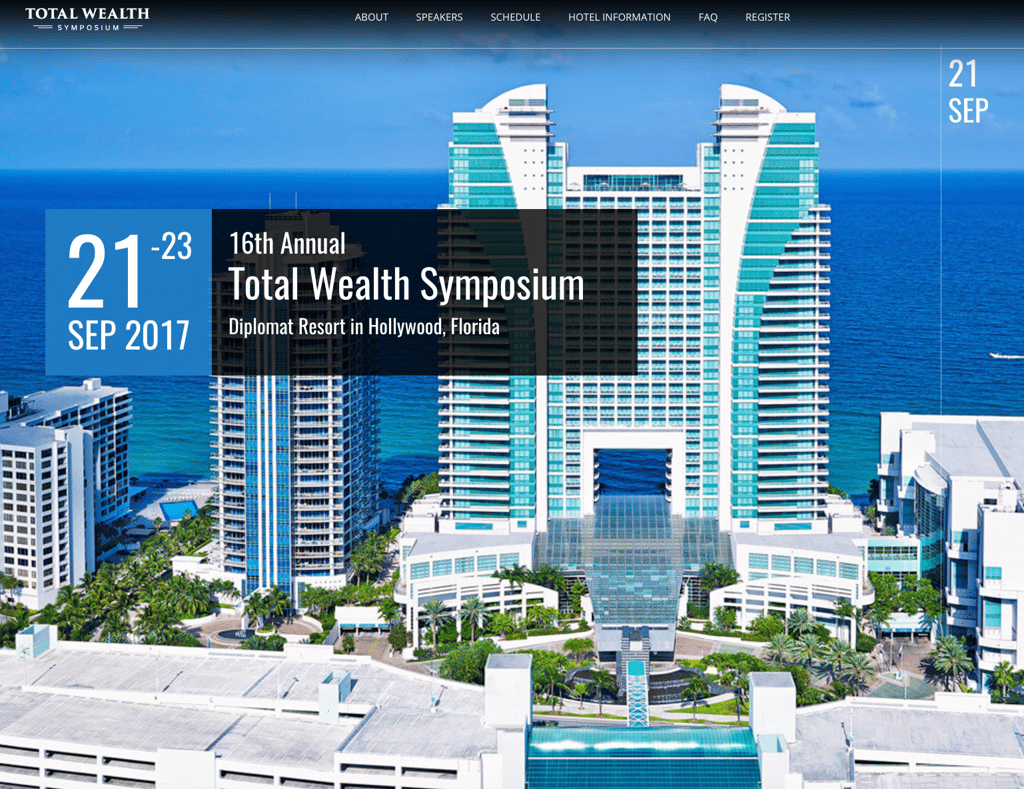 Cybersecurity best-practices and solutions that work.
Total Wealth Symposium attendees understand risk, value, and asset protection. That's why conference organizers and Ted Bauman have been preparing them for growing cybercrime risk since before our first visit in 2015 - well before many considered the matter relevant at all!
With cybercrime, awareness and best-practices are essential. But, they're not enough. Uniquely, the Symposium combines a leading educational element to cybercrime prevention with real solutions - solutions that work and are up to the sophisticated attacks of today. Fortunately, even since 2015, the science of cybersecurity has advanced considerably, and Total Digital Security continues to make it accessible, affordable, and easy for anyone to use.
The Total Wealth Symposium uniquely combines awareness education with information about real solutions like "The Four Fundamentals":
Device Protection

VPN

Privatized Email Accounts

Digital Vaults
These are commercial-grade solutions that protect all the time, wherever you are, and across all your computers and internet connected devices. They operate in real-time for pre-emptive defenses and use the latest security intelligence to block the risk. The solutions are increasingly using artificial intelligence, machine learning, and heuristics for constant and increasing optimization. Look up heuristics if it's new to you - it's a word to know for the digital age.
This stuff is very cool. But better - it really works to drastically reduce the risk.
Like I said - Total Wealth Symposium organizers and attendees understand risk, value, and asset protection, and conference organizers have put together a tremendous schedule for this year. Click for more details on the schedule starting tomorrow, September 21st.
We'll be looking for you at the Diplomat but if you can't make it, stay tuned for more valuable information and solutions coming soon.
Thanks for reading,

Brad Deflin
August 2017 CyberAdvisor Letter - Introducing AI to our Products.