A VPN shields your online activities from the outside, including on public WiFi networks. The encryption and tunneling features of a VPN reduce the risk of financial loss and fraud and make spying, stalking, tracking, and other nefarious activities almost impossible. From the standpoint of risk vs. reward and pure economic value, using a VPN is one of the smartest things you can do today.
In fact, we advocate using a VPN every day as one of the Four Fundamentals of Cybersecurity for Life.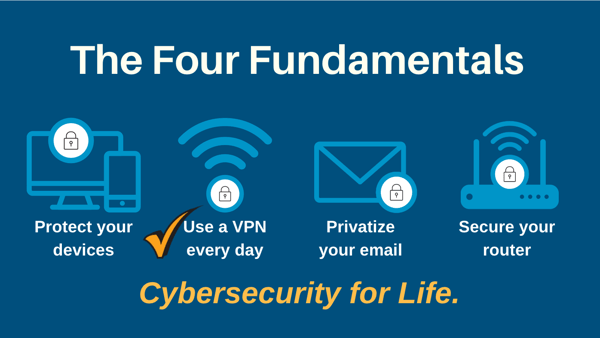 We've been using and recommending VPNs to all our customers since 2013.

In 2015, we began offering F-Secure's Freedome for Business VPN. It passed our criteria for the "best-in-class" VPN but only worked on iOS and Android devices. Since then, the product has served many customers well, though too many have experienced a host of issues causing frustration and unpredictable user experience.
Click here to skip ahead and get started.
Seeking best-in-class
An essential element of our value proposition at Total Digital Security is to operate as an "open" platform. We constantly evaluate for "best-in-class" cybersecurity products and services that are most suitable for our customers using Windows, Apple, and Android devices.

Typically, the solutions we provide are enterprise-class solutions that we uniquely make accessible, affordable, and easy to use for the rest of us.



Innovation in cybersecurity is accelerating and we, as consumers, are the beneficiaries. This progress is evident with the advances seen from VPN providers around the world.
So here is what's happening:
a new best-in-class VPN provider has emerged
the service stands head-and-shoulders over all others we've used
it works on Windows and Apple computers and laptops, iPhones, iPads, and Androids.
That's exciting news for and more on the VPN service we now recommend is coming below but first, some context:
Why use a VPN every day?
Because It makes you invisible online.
Banking, investing, shopping, browsing, all you do online is encrypted and no more than white noise to the outside.
Using a VPN - the before and after

While the internet activities of everyone else are easily monitored, collected, manipulated, and engineered to exploit - when using a VPN your activities travel the network in random ones and zeros, floating like digital ether and invisible to the outside.
A VPN must be expensive, right? Hard to use?
Wrong, and wrong again.
After years of advancing technology, especially in software and network technology, VPNs are more affordable and easier to use than ever. Compared to even just 5 or 10 years ago - it's not even close.

There is not a better bang for the buck with anything I can think of when comparing to the advanced encryption and sophisticated internet tunneling that drive the privacy and security benefits of using a VPN across all your personal technology.
Encryption is likely the most powerful tool we have for control and security of information. Bringing the power of encryption to everyday life puts the VPN-user on a path toward early adoption of other encryption applications for use across their digital lives.

That's a sweet bonus for using a VPN; easy adoption of encryption tools is a life-skill for survival in the new Digital Age.
How to pick the right VPN
Picking a VPN can be tricky for a few reasons:
Lots of tech-speak that isn't meaningful to most users

Plenty of shady operators that are more interested in stealing than protecting information

Inconsistent user-experience across device types
Other specific elements of criteria for a best-in-class VPN include:
Compatibility and Support - for Windows, Mac and Linux, Android and iPhone, as well as support for most major gaming and media devices is essential.

With our recommended VPN, you get set up in a matter of minutes on any device. You can download and install award-winning VPN apps for Windows, Mac, iOS, and Androids and connect with the push of a button.

Real humans are available 24/7 for support and service via email and live chat to help you with setup and troubleshooting.
Speed

-

a slow VPN connection renders the service useless. As with anything related to the network; speed is everything.

The VPN we recommend is ranked among the fastest in the world. A huge network of global VPN servers optimized for fast connections. Unlimited bandwidth, and no throttling.
Server Count and Location - you want your VPN to work everywhere all the time.

Our recommended VPN provider has over 2,000 servers operating in 94 countries across 148 different cities.
Logging Policy - this is key; you want a VPN provider that never logs your activity, and one that you believe when they tell you so. We only recommend VPN providers that

operates under a stringent "No Logging" policy.

The VPN we recommend does not and will never log your traffic data, DNS queries, or anything that could be used to identify you.
Encryption - accept only a minimum of

256-bit AES and options for greater security protocols.

Our recommended VPN service includes DNS/IPv6 leak protection, a kill switch, and split tunneling for the ultimate in privacy and security of digital information.

VPN split tunneling is a powerful feature that allows you to route some of your traffic through a VPN while letting other traffic directly access the internet.

The VPN empowers you to be anonymous online.
IP Masking

- Why reveal your true IP address and location when you don't need to?

With the VPN we offer you can change your IP address through one of the many secure VPN servers it provides.
Geography -

the geography of any information security provider might be more important than many know. In the final analysis, the law of the land and jurisdictional enforcement means everything in cybersecurity.

The VPN we recommend is based in the British Virgin Islands, a tropical location without data retention laws. No activity logs, and no connection logs.
Money-back Guarantee - I'm using a money-back guarantee here as criteria in an attempt to eliminate any reservations you may have to using a VPN.

All plans with our recommended VPN service are fully refundable inside of 30-days. No questions asked.
A Personal Note to Readers - I have spent well over 10,000 hours working at the intersection of people and the technology they use every day. People of all backgrounds and varying levels of technical sophistication - from zero, to way more than I.
Windows, Macs, iOS, Androids, Linux, routers and every internet connected device you can think of; I've spent a lot of time on it helping others. Not one device, ever, has been the same as another. Look, feel, personality, whatever you want to call it, no experience on any device is the same.
And, by now, I should mention; VPNs are notoriously cranky. There is a heck of a lot of heavy lifting going on through the magic of software and digital technology. Sometimes the VPN needs a little room, a little coaxing, and some warming up to.

But it's OK, in the meantime as a user you are learning, adapting, and progressing toward a much better digital state!
*** Now, finally, here is a superior VPN that will protect all your devices, including Windows and Apple computers and laptops, with all the support and resources you need. ***
It's time to protect all your internet connected devices with the world's best VPN.
Our Top Recommended VPN for Use Everyday
Founded in 2009 and based in the British Virgin Islands, ExpressVPN has spent years earning its way toward international recognition as the standard-bearer as a quality VPN service.

As we listed them previously above, ExpressVPN easily meets or exceeds all our criteria for a best-in-class VPN operator and we enthusiastically advocate its use for all your computers, laptops, and phones.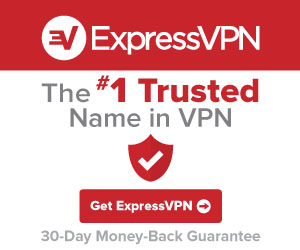 So, here's how to get started with the world's best VPN, and make your online activities invisible from every device you use.
How to get started with ExpressVPN now
ExpressVPN works as a subscription service. You create an account and from there, download the software to each of your devices.

We recommend the $99.95 per year subscription that works on up to three devices at a time.
This is a premium price for a VPN, and it's worth it. It's ridiculous to trade quality for price when choosing a VPN provider. After all, you're inviting the service to join you in some of your most important daily activities for many years to come. You will want to coexist as comfortably and peacefully as you can, and paying a few bucks more is more than worth it.
Here is how the process works to subscribe to the ExpressVPN service:
We will be compensated and will continue to provide best-in-class solutions

We recommend the $8.32 per month ($99.95/yr) plan
The subscription is valid for three devices. You may install ExpressVPN on any number of devices, but only three devices can be connected at any one time. You have the option of increasing devices with an additional subscription.
Go through the process of creating an account with ExpressVPN.

be sure to keep your login username and password in a safe place. You will need it again and will want to keep the password handy until you are done installing the VPN across all your devices.
When you are sure you have the ExpressVPN account credentials in a safe and handy place, log in again to set up your other devices and manage your new VPN account.
Use the ExpressVPN on every device, every day
For now, we think ExpressVPN is undoubtedly the best available anywhere today. And we think this will be the case for some time ,so until that changes we will provide their service as our #1 recommendation, and the key VPN component to Cybersecurity for Life.
The button below will redirect you to a Total Digital Security landing page on our website.

We have a couple reminder pointers and "what-to-expect" tips before you get started.
Two important notes to our customers;

We are still proudly recommending and offering F-Secure for Device Protection for Windows, Macs, and Androids. This is still the product we deem best-in-class for antivirus, anti-phishing, and all device-related risks. And, it also auto updates your software, including Windows patches, without bothering you or the need to reboot. Very cool, and a very big deal when it comes to keeping your computers safe. Read more about Device Protection for Windows, Macs, and Androids.

A note for our F-Secure Freedome VPN customers : please contact support@totaldigitalsecurity.com if you have any questions about your current Freedome licenses.
For more information
Contact us for more information about cybersecurity products and services, and our human-element training and education workshops.