I'll be live streaming from an interview with Marc Bernier on the SpeakER Series at Embry-Riddle Aeronautical University this coming Monday, November 13th 7-9pm EST. We'll talk about how we started Total Digital Security, what we've learned, and what we are seeing from the field. Survival and success in the digital age is the overall theme. Our experience at both training and educating individuals and empowering them with tools to protect themselves, gives us a distinct view of what's happening where the rubber hits the road in cybercrime today.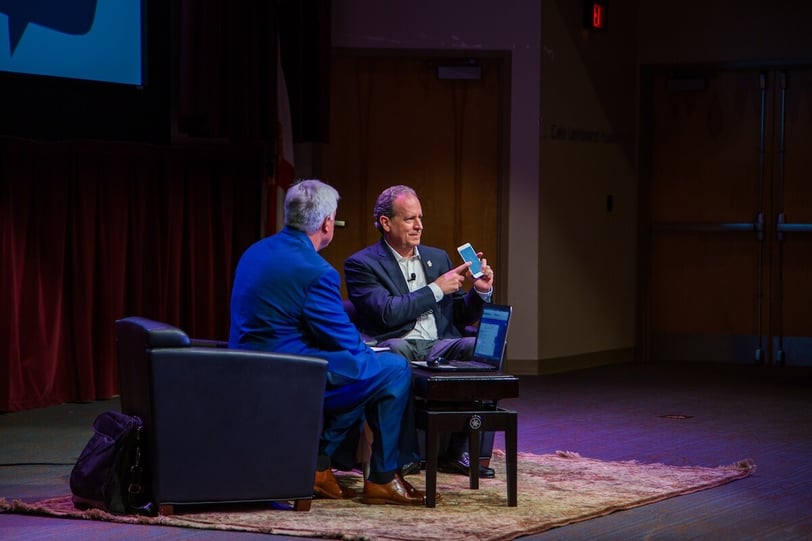 Embry-Riddle invites you to join us for a SpeakER Series Live event.
Our Nov. 13 presentation will be streamed online so alumni all over the world can participate.
Alumnus Brad Deflin ('81, DB), president and founder of Total Digital Security, is our featured guest. Brad is an author and frequent speaker on the matters of online risk, cyber crime, and the emerging technology that defends and protects from these personal and professional risks. Read Brad's bio.
Marc Bernier, host of "The Marc Bernier Show" on FM93.5/AM1150 WNDB, will act as moderator. Each 90-minute SpeakER Series event is free and open to the public. Seating is available beginning at 6 p.m. Overflow viewing rooms will be available with open seating.
Register today to receive a link to the live stream or to join us at the Daytona Beach Campus.
Live stream Monday, November 13th at 7pm - https://youtu.be/Qt6J7doZbxE
About Total Digital Security
We train and educate from the boardroom to the breakroom, across industries like financial services, family offices, government and law enforcement, trusted professional advisors like Realtors®, lawyers, and financial professionals. We've worked closely with people that want to use their technology to its fullest, and not be harassed by some lowly hacker. They seek increased digital autonomy and security, and they take their personal information and privacy seriously.
We also equip our customers with answers - real solutions, commercial-grade technology that is compliant to the strictest regulatory standards, but also afffordable, and easy to use. Device protection, Virtual Private Networks, private email domains for individuals and families, digital vaults with estate planning features, and more in the future as the innovation keeps coming from a re-invigorated IT security industry flush with a steady five years of record capital inflows.
Our thousands of hours spent at the intersection of people, the technology they use every day, and the new risks at hand, have brought us a level of experiential knowlegde and startgeic insights we'll share this coming Monday. I hope you will join us.
Thanks for reading.
Live audiences will be at ERAU's Daytona Campus auditorium, and watching online streaming of the event will be University Alumni and their guests from around the world.