Try asking the following three questions of individuals and groups representing the family office and its multiple constituencies:
"Do you think cyber risk is a big deal today?"

"Do you think it will soon get better or worse?"

"Do you feel ready for it?"
Based on my experience doing the same hundreds of times over the course of the past several years, you will likely find that whether you pose the questions to management, employees, family members, professional advisors, or vendors - their answers all will be the same.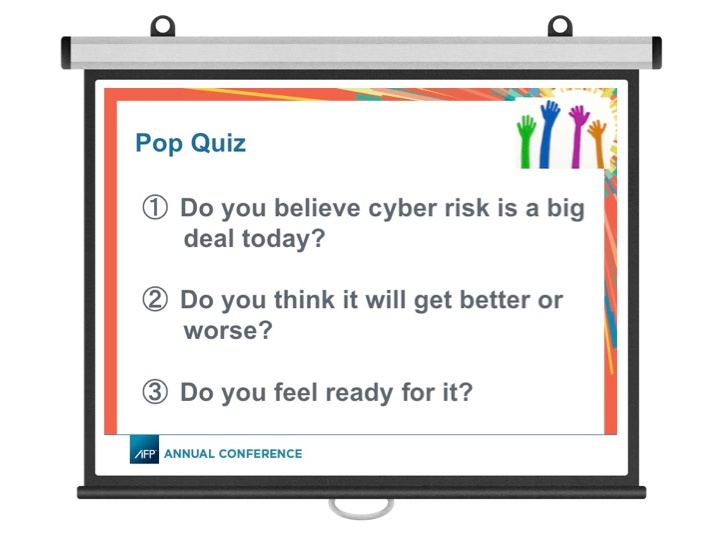 ---
Over the past few years, we've asked these three questions of dozens of groups, and many hundreds of people. Almost without fail the answers are:
"Yes, it's a big deal."

Awareness is increasing as the headlines remind us almost daily of the scope and depth of the problem we face.

"It's going to get a lot worse before any better."

In April the FBI reported a 270% increase in cybercrime over the last year and individuals are either experiencing a breach themselves or know someone close to them that has.

"No. I'm (we're) not ready for it."

From the board room to the breakroom, the answer is consistently the same and most feel daunted by the matter.
These three questions and the answers they invariably receive are a direct reflection of the challenges we face as individuals and organizations alike.
SUMMARY - It's a big problem, it's getting much worse soon, and we have much to do.
Stacked Risk for the Family Office
The family office organization has additional levels of risk that add complexity to an already rather complicated matter.
The family office is a trove of high-value personal information that hackers specifically target today. They are aware the information is stored within the family office domain and often is digitally in motion in and out of the domain.

Detailed financial information is at the heart of the family office operation and is shared across multiple parties, email systems, and devices - often over insecure WiFi networks and usually with "free" email accounts (that in many cases have already been hacked.)

Changing fiduciary requirements and surrounding regulatory environment.

Managing high service standards with demands of cybersecurity,

Family member expectations of counsel and advise.
Creating Change
Considering where the level of risk is now, how quickly it is escalating, and where most organizations are in terms of being prepared, we have a very long way to go.
To jump start change, you have to get at the heart of the matter - the individual.
"Cybercrime is not an IT problem. If there is one lesson companies should take away from this study, it is this one." PWC – Global Economic Crime Survey 2016.
Cyber risk today increasingly resides at the intersection of people, and the technology they use everyday.
"It's become easier to hack a human than a company's technology. " Deloitte – Cyber Attacks Take Aim at Individuals, Roles Inside Organizations.
Employee-centric Cyber Security Education and Training
Our distinct approach combines our years of experience in the field working where the risk increasingly resides today: at the intersection of people and the technology they use every day.
We bring this experience to bear for the sake of program development with the following goals in mind:
Program Goals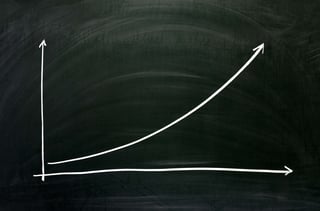 Enterprise-wide cultural adjustment and adaptation.

Heightened and sustained levels of awareness.

Behavioral change, personally and professionally.

Benchmarked and managed compliance.

Long-term program ROI.
The program's over-riding goal is to increase and instill long-term and sustained changes that manage and mitigate cyber risk across the enterprise with optimal program efficacy, and cost efficiency.
Our Approach
All of that may sound great, but how do you actually do it?
The Big Idea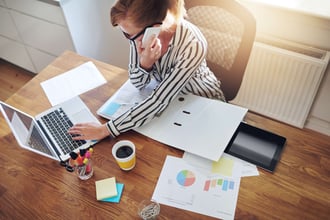 "Informing, educating, and empowering individuals for survival and success in their personal and professional lives is an effective and efficient approach to cyber risk mitigation at the enterprise."
A Fresh Approach
We have developed our approach with years of experience in the field working with individuals, the technology they use every day, and the elevating risks at hand.
Cyber Security Education and Training Programs from Total Digital Security are designed to establish new context and perspective for each attendee. We present the content in a manner that is relevant, applicable, and empowering, and seek to create a foundation of knowledge and understanding that will serve a life time - both personally and professionally.
Why It Works
These four attributes are at the core of our next-generation cyber security training and education programs: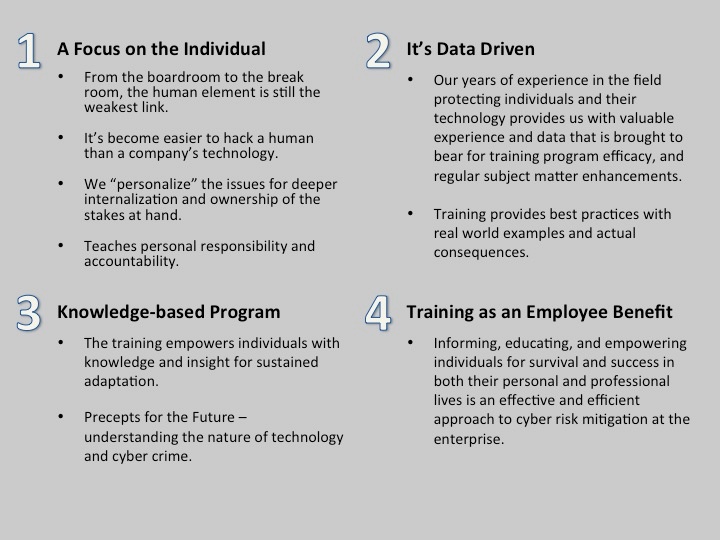 Program Content
Classroom Workshops
Inform through Context -

How did this happen?

The Democratization of Cyber Risk.

What does the future hold?

Educate for Framework -

The Nature of Technology and Cybercrime.

Exponential Change.

Precepts for the Future.

Managing Change for Survival and Success in the Digital Age.

Empower for Cyber Security for Life.

The Four Fundamentals.

The Art and Science of Passwords.

Encryption.

Trends in Security Technology.

Best Practices.

Protecting Home and Family.
Max 50 attendees – 90 -minute session with Q&A.
Online Training
Awareness Training:

On demand by employee - two times per year.
Online Testing
Online Testing: On demand by employee - two times per year.
Attack Simulations: Monthly Phishing and Ransomware attack simulations.

Data Analysis.

Program Development and Optimization.
**In collaboration with the client and in alignment with workshop course content, we engage best-in-class 3rd party providers for the provisioning of the Online Training and Testing components.
Our Experience
Corporate
Employee Awareness and Accountability Training, Executive and Board workshops, Cyber Security as an Employee Benefit, consulting and advising.
Financial Services Firms
Client events and speaking, Cyber Risk Awareness Workshops for employees and teams, The Democratization of Cyber Risk for internal conferences.
Family Offices
The New Face of Risk for Risk Managers, Cyber Security for the Family, The Four Fundamentals.
Professional Trade Associations
Cyber Security for the Professional Trusted Adviser - Legal, Real Estate, Nonprofit, Financial, and Privacy Regulated Industries including HIPAA, PCI, PII, and NPPI.
Business and Industry Conferences
Cyber Security for the Enterprise Without an IT Department, The Democratization of Cyber Risk.
CLE/CE Accredited Training Courses
Florida Bar accredited Cyber Security for the Florida Lawyer, Cyber Risk in Real Estate Sales for agents, brokers, and office managers.
Speaking
See our Calendar of Events:

For more information, references, and pricing, please contact us at:
VIDEO- Cyber Security Education and Training Services by Total Digital Security.