2015 - A Look Back at Some Favorites from the Year in Cyber Security
Our Favorite Article of 2015
Maybe we chose Harvard Business Review's "Cybersecurity's Human Factor: Lessons From the Pentagon" as our favorite because it's remarkably aligned with how we see the world, and is consistent with our mission at Total Digital Security.
Like so much else in life, with cybersecurity the human element is the weakest link.

We are just in the first innings of humanity's "Digital Age" and with our rapid propulsion into a hyper-connected society if you are not informed, aware, and engaged - you will lose.

The technology in cybersecurity is amazing, and getting better all the time. Use it.

The combination of great technology with an engaged and committed individual is not only the best means for defense; but it's the only one that works.

You should assume that without state-of-the-science technology in conjunction with an aware and informed user, harm and loss are assured. The only questions that remain are how deep the consequences are, and how long and arduous the recovery will be.
Another takeaway that resonated with us:
"Multiple studies show that the lion's share of attacks can be prevented simply by patching known vulnerabilities and ensuring that security configurations are correctly set." HBR - Cybersecurity's Human Factor: Lessons from the Pentagon
It's true. Stay on top of the simple stuff and most of the problem goes away. For our customers, we equip them with automation as much as possible to keep the front-lines of defense current and fully armored. Automatic and preemptive patching, updating, and configuring on all devices, - in real-time, 24x7, regardless of location.
How we do this in the real world: "What We Do, How We Do It, and Who We Do It For."
---
Our Favorite Chart of 2015
Cybersecurity technology is good, and getting better quickly as a result of a massive increase in capital spending in the IT security industry.
A picture of innovation: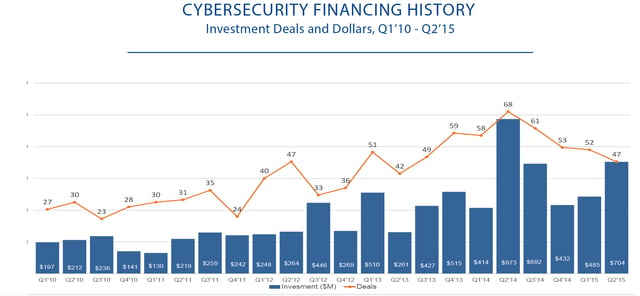 And, this money is being deployed by some of the most innovative and entrepreneurial minds on the planet, including: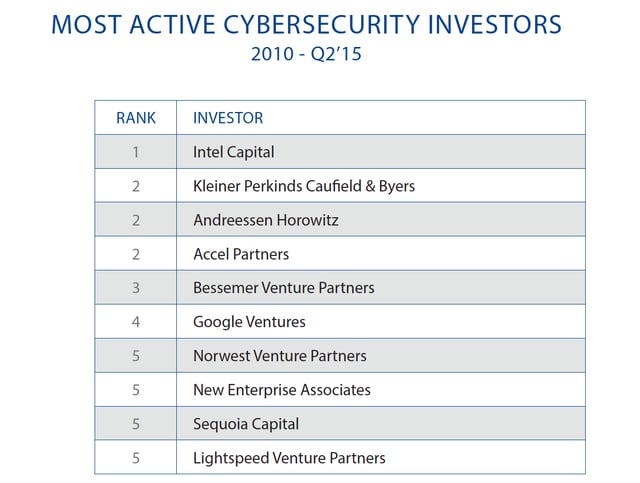 Our second most favorite chart of 2015.
These two charts by CB Insights paint a beautiful picture for us because it's our job at TDS to monitor the industry and bring you the best the industry has to offer for your particular needs. Uniquely, we find powerful solutions that are only being sold to Fortune 500 sized organizations and make them available and easy to use for you and your environments.
---
Our #1 Top Post of 2015
Personally, I would have never guessed our top post for 2016 in terms of views and engagement would be "Ransomware - 4 Things You Must Know." Maybe it's the imperative nature of the title that got your attention, perhaps combined with a list of "4 Things" it gave the impression that important truths were just a click away. Or, perhaps it was my bold prediction that 10's of millions of people will be victims in the few short years ahead.
Whatever, we're just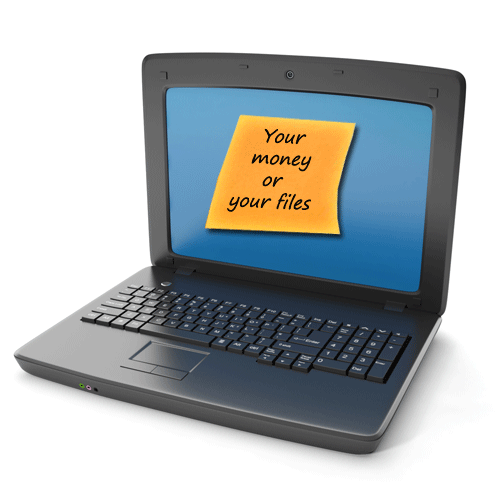 pleased that as a result of the blog's success, more people have an understanding of the word and perhaps a higher level of awareness that will matter one day. One thing you can count on, "ransomware" will be a household word soon as criminal cartels will steal hundreds of millions, potentially billions, from everyday people - a few hundred dollars at a time.
"We predict ransomware will victimize ten's of millions of individuals before it's over and the easy money is exhausted."