"Survival and Success in the New Digital Age"
Embry-Riddle invites you to join us for a SpeakER Series Live event. Our Nov. 13 presentation will be streamed online so alumni all over the world can participate.
Alumnus Brad Deflin ('81, DB), president and founder of Total Digital Security, is our featured guest. Brad is an author and frequent speaker on the matters of online risk, cyber crime, and the emerging technology that defends and protects from these personal and professional risks. Read Brad's bio.
Marc Bernier, host of "The Marc Bernier Show" on FM93.5/AM1150 WNDB, will act as moderator. Each 90-minute SpeakER Series event is free and open to the public. Seating is available beginning at 6 p.m. Overflow viewing rooms will be available with open seating.
Register today to receive a link to the live stream or to join us at the Daytona Beach Campus.
A SpeakER Series Live event, with Marc Bernier, Director ERAU.
Monday November 13th, 2017 at 7-10pm EST
With a live audience and web event streaming from Embry-Riddle Aeronautical University
Daytona Beach Campus, FL.
Click here for more about this event from ERAU.
View the live stream here: https://www.youtube.com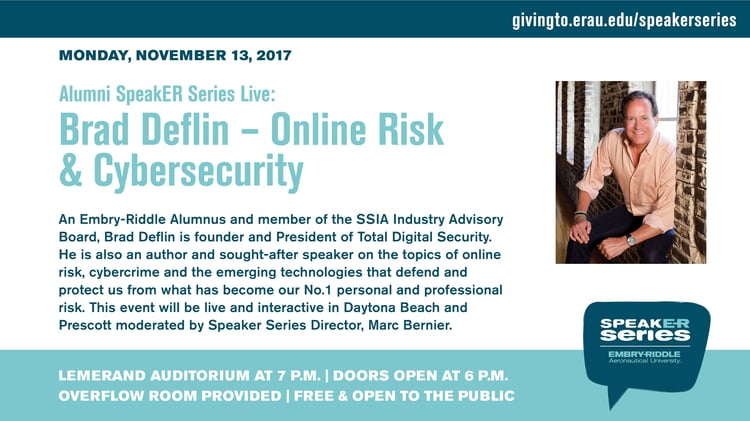 CYBER SECURITY SPEAKER SERIES
Samantha Stirmel/Staff Reporter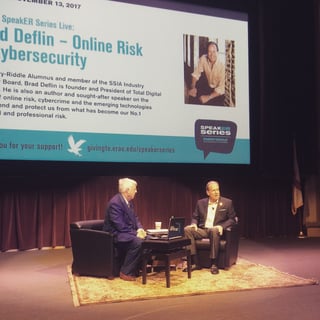 Brad Deflin presented at the Alumni SpeakER Series Live in the Willie Miller auditorium and online on YouTube. They took questions from both the live and online audience.
Deflin is one of the founders and the president of Total Digital Security. He talked a lot about Moore's Law: what he believes is the driver of most of the change in the cybersphere. Deflin explained that Moore started Intel and created the first transistor; several years after manufacturing this he was asked to speak about his success and products. After analyzing data which he wanted to use in his speech, he found that you can increase twice of everything for half the cost because of the advancements in technology. This relates to the digital format versions of everything that Deflin was talking about and how it has helped increase the rise of technology. A scary statistic that Deflin had for the audience explained that "the data that we create.. [totals] the equivalent of the data from the beginning of time to 2003". Big data is classified as artificial intelligence and software that can data mine and connect dots between tons of raw data. All of this data is held in chips within every device we own and "as these chips are driven by Moore's Law.. they're ending up everywhere… so chips are now embedded in almost every part of our daily lives."
It is impossible to get away from technology and every be completely off the grid. However, this constant connection to technology leaves everyone open and vulnerable while it helps them. The internet "democratizes" everything: as in, now anybody with access to the internet has access "to the world." Deflin touches on the fact that the music industry has problems keeping all their products under control because of this. People can jump on any number of online sources and be able to get information that is copyrighted and steal it without much problem.
Switching topics, Deflin began talking about the fear that most Americans have these days: that they are constantly being recorded by their own technology. TV company, Visio, was fined by the federal government and fined by the state of New Jersey for not letting consumers know that their audio systems could be turned on even if the TV is not. The TV's would turn themselves on randomly and be able to record what they heard in their surroundings, in which case, anyone could hack into them and disburse whatever information that TV had collected. Deflin explains that certain things should be in a digital vault, encrypted and kept off the cloud for the privacy of all people everywhere. "The New Digital Age" by Eric Schmidt is a specific book that Deflin mentions that he has developed some of his ideas from besides his personal experience. Schmidt is chairman of Alphabet, a huge company that spans the globe by owning other companies under them, most notably, Google. Deflin explains that Schmidt comes from the old school tech world, going to Stanford like any other technically driven person in that time. Schmidt talks about how "Humanity has been through all.. ages," but now "we're in the digital age," and that requires a "new set of rules." The phone has your entire identity and humanity has become too reliant on them. They are the "supercomputers of today" and even better than Kray computers, some of the very first in the industry. "More people own a cell phone than own a toilet," says Deflin. The connection of people to phones is ever increasing so much so that they are paying by phone even now. Digital identities can be accessed in a number of ways through cell phones and "preserving your digital autonomy is one of the most difficult things." Even the Equifax crisis was brought up. Equifax's CEO testified on Wednesday this past week and when asked if the peoples' data could have been taken or impacted he could not answer. Deflin is incredibly worried about these companies that hold massive amounts of personal data that could ruin a person's life and that they do not monitor it closely enough. During the lifetimes of the people on this campus, Deflin thinks that hacking will become much more under control, stopping more ransomware and stealing of identities in general. Ransomware attacks hold your information for bitcoin; but right now, it is the "wild west." Deflin has talked to the FBI about this for his clients and has been told that if the client's information is important enough, the best advice is to "pay the ransom." There are no physical barriers stopping hacking and the ransoming of people's information, and so it is hard to track it right now especially with the outdated laws that do not allow police to stop it. Countries that wish to harm us will not physically hurt us; they will bring us to our knees economically through the tech market. James Klapper's comments on being attacked online, "low to moderate attacks are the ones that will impact us the most," since they are more abundant and take little chips away at people's lives and are again, hard to track.
People, technology and risk need to all be managed together and weighted equally to protect the people. While working for JP Morgan in 2012, Deflin had the epiphany that technology was being democratized and he did not want to go to the IT department; he wanted to talk to the public. The biggest risk manager in the universe in the industry got paid 52 million dollars a year to look over Leman's assets and capital to make sure that nothing got through or scammed. He himself was scammed out of 20 million dollars trying to buy a simple apartment. Part of this advocates getting off of free email since "we have become used to the idea that everything is free on the internet." This sense of everything being free is detrimental to peoples' understanding of the world and makes people more vulnerable. One key economic term that Deflin mentioned is the fact that "There's No Such Thing As a Free Lunch," someone's always paying for something in some way shape, or form. By using sketchy online sites and throwing personal information all over the internet, it increases the chance of someone taking advantage of that information and using it. Deflin talked next about how passwords that people believed protected their information were incredibly ineffective. However, "there is an art and science to passwords," and the power of them is in the math, the longer they are, the harder they are to crack. At around 14 characters the password becomes almost impossible to crack regardless of special characters or capitalized letters. "We have been taught erroneously that it has to be complex, " but Brad advises that it be completely random. Something that has a familiar tone "Mary had a little lamb" and switch it up to "Kathy had a big cow" so that it fits the criteria of what it needs to be less hackable, but easy to remember.
Next, the talk shifted to the cloud, the massive database in the sky that holds everyone's information and more selfies than can be counted. Deflin worries about this perception of the cloud as it "is really just someone else's computer." Thought computing is implying that this information is becoming more accessible and that it can be accessed from everywhere. The smartphone changed everything, Steve Jobs predicted it by saying that we "will be running [our] lives off of [cellphones]." Deflin thinks he is not wrong. The demand for the information to be everywhere, on the go, made the industry step up to it and offer it everywhere. A simple case of supply and demand. But this requires the overarching of the cloud in more ways than anyone ever expected and holds more information than ever. Cyber is humanities transition to the new age, and the low hanging fruit of cyber expansion is its crime, which is only in the early innings and will progress further. Obama's administration tried to address this technological monolith shadowing the world and put out a call for more cyber specialists. Though the government recognized it, they ignored computer scientists, engineers, and various other pieces of the puzzle that form together to form the firewall against cyber-attacks.
Streamed live on Nov 13, 2017
Embry-Riddle alumnus Brad Deflin ('81, DB), president and founder of Total Digital Security, will address matters of online risk, cybercrime and the emerging technology that can defend and protect from these personal and professional risks. Join moderator Marc Bernier, the host of "The Marc Bernier Show" on FM93.5/AM1150 WNDB and director of Embry-Riddle's Speaker Series, for this informative, live-streamed event.
Category
Transcript:
bang okay hi everybody welcome to
00:02
embry-riddle through the every rural
00:04
speaker series tonight is a live
00:05
interactive event it will be on YouTube
00:09
so you're all going to be worldwide
00:11
stars how many have been to an Embry
00:13
Riddle speaker event before show of
00:15
hands okay I'm gonna ask all of you to
00:18
mute your phones at this time we're
00:19
going to begin in just a couple moments
00:21
this is live so it will be broadcast
00:25
worldwide it will also be recorded or
00:27
future appearances on our website and it
00:32
will also appear in audio form on 93.5
00:35
am 1150 wnd be at a date to be
00:38
determined in the next couple of weeks
00:40
most likely over the thanksgiving period
00:43
if you're just coming in take a seat
00:45
very quickly because we're going to hit
00:47
the air as close to seven straight up as
00:49
possible this presentation is scheduled
00:52
to go about an hour and 20 minutes this
00:54
will be Q&A; I'll begin the discussion
00:57
with our guest Brad Devlin and then we
01:00
will take questions from you and the
01:02
audience as well as our worldwide
01:04
Allen Pratt this is assisting me tonight
01:06
as the voice of God he is in the booth
01:09
and you will hear the dulcet tones of
01:12
Allen Pratt read the questions that are
01:14
brought through the YouTube channel and
01:16
all of this will be recorded so Mr Cook
01:19
enter and sign in please no actually you
01:22
don't have to just like the game show so
01:24
if you need to use the facilities for
01:27
any point during this evening event
01:29
please feel free to exit to the right
01:32
and our students will let you through
01:35
the door but we want to try to minimize
01:37
sound so you can clap you can laugh I
01:40
won't be clapping but you can express
01:43
comments but please come to the
01:45
microphones we have two microphones set
01:47
up very important are we if we're up on
01:51
on YouTube I want to remind the audience
01:54
it's important to brevity is important
01:57
here your questions should not be
01:59
multi-part questions you put in your
02:01
question directly to Brad if you can
02:03
keep it short that's good and we'll go
02:06
from left to right and then we'll also
02:08
take questions from the audience so when
02:10
we call for you to come down line right
02:13
standing very long okay and what we'll
02:15
try to do is get everyone in the room
02:17
who's assembled to get a question before
02:19
we go to a repeat question so no
02:22
multiple part questions please if you
02:24
could be as succinct as possible we
02:26
appreciate it and then we will preview
02:28
the final two events for our Fall Series
02:31
very exciting tomorrow night we're back
02:33
in the next Monday night for Bob
02:35
Schieffer so please stand by thank you
02:37
for being with us this evening we hope
02:39
you enjoyed tonight's presentation
03:20
good evening from the Gail LeBaron
03:23
Auditorium on the campus of Embry Riddle
03:24
welcome to the Embry Riddle speaker
03:26
series I'm mark Bernie earth moderator
03:29
for tonight's event in cooperation with
03:31
the office of alumni relations tonight
03:33
one of the most talked-about
03:34
issues over the last few years
03:36
cybersecurity what happens to your
03:39
checking account to your banking the
03:41
matter of fact anything that you do
03:42
online who's seeing it and could it be
03:45
ever used against you just a few of the
03:48
many questions to be asked of our guest
03:49
tonight an interactive experience and we
03:52
welcome our YouTube audience as well
03:54
you'll be able to submit your questions
03:56
directly to our guests as well as our
03:58
assembled audience here at embry-riddle
04:01
as you know we're especially proud of
04:04
the students of Embry Riddle those who
04:06
have graduated and gone on to exciting
04:08
it's especially thrilling where one of
04:11
our graduates comes back to talk about
04:13
the bounties of their education that's
04:15
what we're doing tonight our special
04:17
guest is the founder and owner of total
04:21
digital security and Embry Riddle
04:24
alumnus please give a warm welcome for
04:32
Brad thanks for being with us my
04:34
pleasure there's some basics that we'll
04:36
get to and explain to the audience even
04:38
I was learning things today I have never
04:40
heard before let us begin with what is
04:42
Moore's law sure great great start
04:45
Moore's law is really the driver of most
04:49
of the change that you see today
04:51
you know I myself asked myself am I just
04:54
getting old I mean things really change
04:56
quickly am i becoming like my father and
05:00
not able to deal with these things but
05:01
know things really are changing that
05:04
quickly because some 5060 years ago a
05:07
gentleman by the name of Gordon Moore
05:09
who went on to found a little company by
05:12
the name of Intel perhaps you've heard
05:14
of it and some of his peers actually
05:16
invented the first transistor
05:19
semiconductor first computer on a chip
05:21
if you will before that they were full
05:23
of vacuum tubes took up the size of a
05:26
couple of rooms and now the micro
05:28
transistor was invented it was beginning
05:31
to be produced in a couple of years
05:34
after manufacturing these chips a
05:37
scientific body in the United States
05:39
said dr. Moore we'd like you to come
05:41
back and talk to us about what you've
05:43
learned since you invented these chips
05:45
and had been manufacturing these chips
05:47
for a few years and he said I'd be
05:49
delighted to let me do some homework and
05:52
I'll analyze our data and I'll come back
05:54
and tell you what we found and when he
05:56
reported he said I'm probably as
05:59
surprised to say this as you are but
06:01
what we're finding is we were able to
06:03
create chips that are twice as fast as
06:06
the previous chip week we manufactured
06:10
in half the cost every one to two years
06:14
in other words twice the output twice
06:17
the value twice the productivity in half
06:21
the cost nobody believed it because we
06:23
had never seen a value proposition like
06:26
today Moore's law still exists bing's in
06:30
the digital format progress at a hundred
06:33
percent every one to two years at half
06:37
the cost and that's why everything is
06:40
surrounding us in terms of digital
06:42
technology today I don't want to jump
06:44
too far ahead but you said something at
06:46
found intriguing that within a very
06:47
short amount of time we will have a
06:49
process that will have twice all the
06:52
information that's ever been conceived
06:55
up until that moment in a matter of a
06:57
short time it's replicating yes the data
07:00
that we create as individuals as a
07:02
society globally Eric Schmidt the
07:05
chairman of Google actually determined
07:07
that every day now we are creating as
07:10
much data as all of humankind created
07:15
between the beginning of time in the
07:17
year 2003 you take all the data from the
07:20
beginning of time to the year 2003 we're
07:23
creating that much data every single day
07:25
and by the time we reach the year 2020
07:28
that will be every couple of hours that
07:29
we create that much data so is we give
07:32
you the backdrop for tonight's program
07:34
talk about big data what is that yes so
07:37
very important backdrop mark to
07:40
everything that we talk about big data
07:41
is very powerful software not only of
07:44
the chips progressed and become very
07:45
powerful but so is the software that
07:48
operates on these computer chips you're
07:50
seeing artificial intelligence now being
07:52
introduced for example big data is a
07:55
term to know for the future a lot of
07:56
people capitalize it Big B Big Day the
07:59
Big D Big D Big D and you see it in
08:01
annual reports every government report
08:04
it is software that is able to mine
08:06
these large silos of data and find well
08:10
what are the common denominators here
08:12
how do we connect these dots and and
08:15
mine knowledge from this raw data so
08:17
companies are using it to predict
08:20
consumer behaviors buying patterns to
08:23
help them budget their finances to do
08:27
all sorts of things that transcend
08:30
really our ability as humans and
08:32
accountants to figure out minding this
08:34
data to create knowledge from it how
08:37
many of you have an Alexa or speak to
08:40
Alexa and Amazon okay it's under the
08:43
umbrella of the Internet of Things
08:45
things that we commonly use every day in
08:48
our homes I didn't realize it was as
08:50
fast right down to your TV's your
08:52
computers and this thing called Alexa
08:54
so as these chips are driven by Moore's
08:58
law and keep getting more and more
09:00
powerful and cheaper and cheaper they're
09:02
ending up everywhere right we hear about
09:04
appliances like an Alexa or even our
09:07
microwave our refrigerator now having
09:10
chips look how many chips are in a
09:12
brand-new automobile delivered from
09:13
Detroit that is now connected to the
09:16
they're proliferating they're everywhere
09:18
so chips are now embedded in almost
09:21
everything that surrounds our daily
09:22
lives they're connected to the Internet
09:25
they're aware and they're collecting
09:27
more and more information by the time we
09:30
get to 2020 it's assumed it's predicted
09:34
something like 20 to 50 billion of these
09:37
things will be surrounding our everyday
09:40
life an example was in The Wall Street
09:42
Journal not long ago Johnson and Johnson
09:44
had to publicly announce their insulin
09:48
pump was hacked there in our pacemakers
09:51
they're in almost everything that we do
09:53
every day one of my radio colleagues has
09:55
sleep apnea as I do but his is monitored
09:58
through a chip and the settings are
10:00
changed on his BiPAP machine
10:02
electronically away from his home he
10:05
doesn't go to a doctor he doesn't go to
10:06
a pulmonologist and have those settings
10:08
changed you made a statement you've been
10:10
quoted and I watched you at some of your
10:12
other discussions the internet internet
10:14
risk is being democratized I believe
10:17
that's the term what does that mean sure
10:19
so it's been said that the internet
10:20
democratizes everything it touches and
10:23
where most people sort of get that is
10:25
with knowledge and information think
10:27
about it historically what an individual
10:29
had to do to access knowledge and
10:31
information for most of our existence
10:33
you had to be somebody of wealth or
10:36
power to have access to knowledge and
10:39
information and then of course the
10:41
Library System's brought it closer to
10:43
the common person but now anybody with a
10:47
computer connected to the Internet and a
10:49
couple of keystrokes has access to the
10:51
world's knowledge and information which
10:55
probably exceeds even the knowledge and
10:57
information the President of the United
10:59
States had just 5 or 10 years ago so the
11:03
internet democratizes everything it
11:05
touches people that are in the recording
11:07
industry will tell you that it's very
11:09
hard to control the distribution of
11:11
their product which might be a
11:13
song or a movie or something else uber
11:16
is a great example it democratized the
11:19
taxi business anybody can be a driver
11:21
anybody can be a rider anywhere anytime
11:25
I was in front of a hotel company in
11:28
Dallas and I said who else has another
11:30
example and a young lady raised her hand
11:31
and she said the lodging industry our
11:34
industry is being democratized anybody
11:37
can be a hotelier anybody can be a guest
11:42
Airbnb the Internet is democratized
11:45
cyber risk anybody can be a hacker
11:48
anybody can be a victim anywhere anytime
11:51
early okay how many people have a TV
11:53
that has a camera and you're always
11:55
wondering if you're being watched do
11:57
they put their hands up slowly you told
12:00
us vicio was fined by the federal
12:03
government for apparently not telling
12:05
people that those things could be
12:07
activated even when the TV is off
12:09
correct Vizio you may know the brand
12:12
they are sold in Costco for example
12:15
Vizio was fined by the state of New
12:17
Jersey and the FCC for about two and a
12:19
half million dollars because even when
12:21
the TV is off it's actually recording
12:24
your conversations Wow you spoke of one
12:27
other thing in this is item number four
12:29
in the setup the digital vault yes what
12:33
is that and what goes into it sure oh I
12:37
liken the digital vault to a safety
12:39
deposit box for the digital age if you
12:42
will right you have that place where
12:44
just the very special stuff goes you
12:47
might not go to it every day but you
12:49
know you can always get it when you want
12:51
it so we think that certain documents
12:53
may be a tax return maybe wills and
12:56
trusts maybe scans of your passports for
12:59
example shouldn't be on the cloud there
13:02
are certain things and you know them
13:04
when you see them that should be in a
13:05
digital vault off the cloud encrypted
13:09
and very safe from the outside if it
13:12
sounds like we're moving through this
13:13
material very quickly we are because we
13:15
want to have room for your questions
13:17
from our audience watching on YouTube
13:19
but also from your presence so start
13:21
thinking of your question for Brad def
13:23
limb we're going to go to those
13:24
questions shortly we have two
13:27
for that purpose you mentioned a book I
13:31
think it's called the new digital age it
13:33
was written by Eric Schmidt right there
13:35
was a significance to that book because
13:37
of what Eric Schmidt wrote yes so Eric
13:39
Schmidt if you don't know the name he is
13:42
the chairman of alphabet which is the
13:44
holding company for google so chairman
13:46
of the board of Google very powerful
13:48
individual comes from from the old
13:54
school if you will of technology grew up
13:56
on Stanford University's campus and
13:58
actually was one of the founders of Sun
14:00
Microsystems well when a few 25 year
14:03
olds at Google went public and created a
14:05
multi-billion dollar company Wall Street
14:07
said you need to have an adult in the
14:09
room with you guys right there's a lot
14:11
of money at stake and we need an adult
14:13
well they brought in Eric Schmidt so
14:15
really a spokesperson on many levels he
14:18
wrote a book it's only been a couple of
14:20
years that it's out it's called a new
14:21
digital age and it really resonated with
14:23
us because we think a lot in terms of
14:25
the digital age and he's talking about
14:27
you know humanity has been through the
14:30
Stone Age and the bronze age and the age
14:32
of agriculture and of course the
14:34
Industrial Revolution we are really in
14:36
the first innings really at the dawn of
14:39
a brand new era in humankind known as
14:43
the digital age and it's going to take a
14:45
new set of rules and a new set of
14:47
behaviors and really new sensibilities
14:50
altogether new sensibilities simply for
14:53
survival much less success and he
14:55
addresses this I think very effectively
14:57
in the book especially because he does
15:00
speak to kids right in other generations
15:03
before us who are great as users on
15:07
these devices it probably take a lot for
15:10
granted when it comes to privacy
15:11
personal information and the fact that
15:14
they're creating a dossier every single
15:16
day that they're doing all this stuff
15:18
online that never goes away the
15:20
self-effacing moment how many have ever
15:23
either lost their phones or had it quit
15:26
on them yeah mine did today during a
15:30
radio broadcast I got a new phone in
15:34
about a half an hour but during that
15:36
time I felt unconnected with the world
15:38
is what if Brad's trying to call me what
15:40
they call me and I had to get it fixed
15:42
and the ordeal of going and it's not
15:46
like it was where I thought well I'll
15:47
just pop a new battery and I got this
15:49
phone a year ago oh no the way they're
15:50
made now you got to get a new phone but
15:52
this phone your phone has your pictures
15:55
your identity has text messaging it has
15:57
it has connections we've become so
16:00
reliant on these things these will be
16:03
the supercomputers of the future well
16:04
they know they're really the
16:06
supercomputers of today the power that
16:08
we hold in our hands any of your smart
16:09
phones that you have in your hand
16:11
exceeds the power of a Cray computer if
16:14
you remember it was multi millions of
16:16
dollars took up you know rooms in size
16:19
took IT technicians it's a supercomputer
16:23
that's Moore's law driving that power
16:26
and affordability and here's another
16:27
fact more people on the planet have one
16:30
of those than have a toilet Wow must be
16:34
interesting and I've noticed homeless
16:36
aging countries the homeless people yeah
16:38
they may not know where they're gonna
16:40
have their next meal but they've got a
16:42
smartphone in the palm of their hand
16:43
yeah I hear a police officer not far
16:45
from campus today made a comment he said
16:47
these are homeless people gonna get them
16:49
some help and someone walking by sick
16:51
how come they all have cell phones right
16:52
and that was interesting I'm thinking
16:54
what does the bill go I know it was an
16:56
Obama phone that's what they called it
16:58
so the the whole issue of paying by
17:02
phone people aren't writing checks out
17:05
before I think my colleague Chris
17:07
Lambert made that comment today you have
17:09
to wonder about it people need to think
17:12
about digital identity dr. Gary Kessler
17:15
one of our colleagues who's in the
17:17
audience tonight taught me the very
17:18
beginning of the digital identity how
17:21
easy is it for anyone in our audience
17:23
are watching to lose their digital
17:25
identity it's very easy and we think
17:29
preserving your digital autonomy is
17:31
really the challenge and the struggle
17:33
for the future it's very easy to lose a
17:35
digital identity if you're targeted and
17:38
most of us you know are not targeted but
17:41
the day is not far off where almost
17:43
everybody will be targeted because they
17:45
can be and because they can extract
17:47
value from that you can steal an
17:49
identity and your best case is
17:51
tremendous inconvenience it can be
17:54
a lot worse as a matter of fact company
17:56
in the audience have heard of Equifax
17:58
okay I may be mispronouncing and I've
18:01
heard it both ways Equifax Equifax Brad
18:05
yeah so these sensibilities that we talk
18:09
about in terms of you know the different
18:11
behaviors and different mindset that's
18:13
required for survival in the digital age
18:16
we have a long way to go the CEO of
18:19
Equifax was testifying on Wednesday last
18:22
week and when asked if the data our data
18:25
right was encrypt encrypted he couldn't
18:29
answer the question technology is really
18:32
not the problem it's really humans and
18:35
our ability to adapt and change into
18:37
this environment that is not happening
18:39
even all the way up into the c-suite
18:41
even all the way up into the furthest
18:43
highest echelon of the government for
18:47
these things we need a lot more
18:48
grassroots you know we were talking
18:50
about increasing awareness for the
18:53
student body on campus as new students
18:55
come on and really beginning to talk
18:57
about just as being equipped for
19:00
survival and success in everyday
19:02
mainstream life after listening to you
19:04
speak at lunch today I start to think
19:06
probably 90% of people might be
19:10
vulnerable for ransomware and that's
19:12
where your computer is locked up they
19:15
try to find some vulnerability it's
19:16
extortion it's against the law but
19:19
there's it's the Wild West out there
19:20
Brad there's no policing for it yeah
19:22
will that be brought under control in
19:25
our lifetimes do you think I control
19:27
somehow yeah I tend to think that during
19:31
our lifetimes this will come under
19:34
better control much better control I
19:36
think the next three to five years
19:38
it is the Wild West and data is the new
19:41
oil and we all have a lot of wealth of
19:45
data and so we are all more and more
19:48
becoming targets as a result ransomware
19:50
is when your information on your
19:53
computer is encrypted and it's held from
19:56
you for a ransom and you don't get it
19:58
back until you pay that ransom in
20:00
Bitcoin it's the evolution of extortion
20:02
and so if you're not familiar with
20:06
come familiar with it transfer money to
20:08
Bitcoin value and pay the ransom
20:10
it and so when we get the incoming phone
20:13
calls from new customers that have had a
20:15
ransomware attack the first thing it's
20:18
almost by script the first thing they do
20:20
is they call the police and the police
20:23
because it's really the FBI's problem
20:25
and so they call the FBI and the FBI is
20:27
inundated with these calls and the FBI
20:29
asks you is your information important
20:32
to you and most people will say yes
20:34
because they're hugging to your point
20:35
mark they're hugging their lives off
20:37
these devices shopping browsing banking
20:41
personally professionally all aspects of
20:43
their lives are humming off their
20:45
devices so they say yes to the FBI the
20:47
information is important the next
20:49
question from the FBI is is your
20:51
computer important to you well I just
20:53
paid three thousand dollars for my new
20:55
MacBook yes it's important to me and pay
20:59
there's no negotiating there's no
21:01
getting your data back and your
21:02
computers probably lost in terms of a
21:05
useable computer unless you pay to get
21:09
unencrypted so that's the best advice
21:12
remember these are crimes that have no
21:14
right when you think about forensics the
21:18
traditional approach does not apply
21:19
these are crimes that can't be prevented
21:22
by fences or borders or gates you know I
21:25
live in a community in Palm Beach where
21:27
if you're not negated community you live
21:29
on an island and you like that because
21:31
they're only two bridges to get on the
21:32
island and everybody knows who's coming
21:34
and going and you feel kind of safely
21:36
ensconced there those rules don't apply
21:38
when it comes to cyber crime this is a
21:41
crime it's extortion right correct
21:43
forgive me for morphing into TV
21:46
detective Columbo but excuse me if it's
21:50
a crime how do you know you're gonna get
21:52
you stuff back even if you pay it's good
21:55
business practice for these cyber
21:57
criminals no honor on their deal because
22:00
they know you're gonna tell your
22:01
neighbor and they will also come back to
22:04
you in about six months or less and try
22:06
you again and they want everybody to
22:08
know they'll make good on the deal they
22:10
don't want your data they want your
22:11
Wow yeah have they been able to at all
22:14
this is just sort of a branch from that
22:16
target if this is coming from particular
22:19
it's been suspected that countries that
22:21
wish to harm us there was a report that
22:23
came out that said the United States
22:24
would not be brought to its knees by
22:26
missiles and planes crashing into
22:28
buildings but by bit by bit and you
22:30
spoke to that over the next couple of
22:32
bit by bit breaking into people taking
22:36
their stuff and bringing the economy to
22:38
its knees that way is that the rule of
22:40
thumb is that what's behind some of it
22:41
is and I think that there are certain
22:43
levels of the federal government and
22:44
military that absolutely do get this if
22:47
you listen to the leaders you can tell
22:48
they're very serious James clapper
22:50
before he left the administration in
22:52
November of 16 said to Congress in his
22:55
annual report on the state of security
22:57
of the nation that the number one risk
22:59
to the country in terms of economic
23:01
stability and national security was the
23:04
cyber threat and he said it's not cyber
23:07
Armageddon that's a big threat and it's
23:09
gonna happen where some component of the
23:12
National Infrastructure System call it
23:14
the electric utility grid called the air
23:18
whatever it is is taken down by the
23:20
North Koreans or some other some other
23:25
according to James clapper and many
23:26
others that think about this is what
23:29
they call the low to moderate attacks
23:30
those that we don't read about in the
23:32
headlines those on us our families in
23:34
our homes our small businesses our
23:36
professional practices in the aggregate
23:38
are now the number one risk to economic
23:41
stability and national security a bit on
23:44
you you graduate in 81 you didn't just
23:46
fall into this you were in a vu when
23:48
radiation and if I'm not mistaken didn't
23:51
you work for like Leland brothers for
23:52
libraries yeah I did you know so in
23:56
reflecting coming out of aviation being
23:59
a professional pilot working in the
24:00
airline industry and where I am today
24:03
and having a private banking career sort
24:05
of in between that you know how does
24:06
that happen but I would tell you that
24:08
you know we're all about what happens at
24:10
the intersection of people technology
24:14
and risk and I can't think of another
24:17
profession than flying an airplane where
24:19
that really happens every day your that
24:21
you're right at the intersection of
24:22
people technology and risk how do you
24:24
manage that how do you respond to the
24:27
unknown how do you mitigate the risk how
24:29
do you have a plan what are your
24:32
efforts a lot of that applies but in the
24:34
financial services business where I
24:36
dealt with the ultra high-net-worth
24:37
market and I was supervising very large
24:40
businesses and territories that was
24:42
around compliance it was around the
24:45
supervision and a lot of that had to do
24:47
with client confidentiality and those
24:50
records and I introduced technology into
24:52
the space it was in 2012 when I was at
24:55
JPMorgan that I kind of had an epiphany
24:58
that cyber risk was being democratized
25:00
and the big deal was not going to be
25:03
necessarily talking to the IT department
25:05
or the Pentagon about these these issues
25:06
that was going to be about talking to us
25:08
is everyday people and parents and heads
25:11
of household and owners of small
25:12
businesses about what this was about and
25:15
how to become more aware and astute and
25:16
mitigate the risk and preserve digital
25:19
autonomy and so the point to be made
25:21
here is that it's not just us that don't
25:25
know everything it could be victims even
25:27
the smartest people make mistakes and
25:29
sometimes they're costly take for
25:32
example Robert Maillard who was with
25:35
Leland and one of the highest-paid
25:37
individuals and made a fatal mistake
25:41
so the Iran lehman brothers
25:43
institutional in retail markets for
25:45
about ten years in florida and there are
25:48
a lot of other talks mark and i can do
25:51
about that experience with lehman
25:52
brothers but i can tell you that it was
25:54
a collection of enormous ly smart when
25:57
you talk about Rob horsepower brain
26:00
power these were really smart people
26:02
very competitive to everybody wanted to
26:05
be the smartest guy in the room but
26:06
there was one guy at the bank mark that
26:09
was always the smartest guy in the room
26:10
nobody even argued nobody even thought
26:12
about it his name was Robert Maillard in
26:15
2007 one year before the bank went down
26:18
the greatest bankruptcy ever in history
26:21
he made 52 million dollars for the year
26:24
the number two employee at Lehman was
26:27
the CEO dick fooled he made 40 million
26:29
so it begs the question who was this guy
26:31
and what did he do he was the
26:33
proprietary trader what that meant was
26:35
he had full discretion over Lehman
26:37
Brothers 100 billion dollar balance
26:40
sheet and he was a risk manager he
26:43
spotted securities around the world
26:45
his team decided if they were overpriced
26:48
from a risk/reward standpoint er
26:50
underpriced from a risk/reward
26:52
standpoint would go long or short
26:54
leverage the heck out of the trades and
26:56
was smart enough to do that so
26:58
consistently and so profitably they
27:01
determined he was worth 52 million
27:03
dollars in 2007 so I described him as a
27:06
master of the universe risk manager
27:09
right by 2016 he and his wife were
27:12
buying an apartment in Manhattan and
27:14
this is all over the news you can google
27:16
it we're not speaking out of school here
27:17
for twenty million dollars and he did it
27:21
on his al account so he they were
27:24
skulking that's what they do they don't
27:26
just look it for a couple of seconds and
27:28
take a bank account they skulk in the
27:30
background and they collect these bits
27:32
of information and they engineer them in
27:35
a very sophisticated way and time it
27:37
just right so that when he was expecting
27:40
from the bank from the broker from the
27:43
seller of the property to say okay it's
27:45
time to send the two million dollar
27:47
deposit you send it to this Bank this a
27:49
bank account it was so well engineered
27:51
and prepared that he clicked and sent
27:55
his two million dollars that is now gone
27:57
he was hacked it was wired to Hong Kong
28:00
it was converted to Bitcoin and there's
28:03
no scene of the crime he has nobody to
28:04
sue a master of the universe risk
28:08
manager missed his number one risk today
28:11
that's change that's how fast change is
28:14
happening today didn't something also
28:15
happen with the New York State Supreme
28:17
Court judge what happened similarly this
28:20
year she is with the Supreme Court in
28:24
wired one million dollars for a new
28:26
residence she and her wife were
28:28
purchasing and lost it the point is not
28:31
him or her the point is very educated
28:33
people very engaged people they know
28:36
what's going on simply not developing
28:40
the new sensibilities required in the
28:43
digital age fast enough to survive and
28:46
succeed in this environment one of the
28:48
things to come back to consumer that
28:50
you've advocated is to get off free
28:53
email yeah and go where so we have been
28:57
we say privatize email and all
28:59
and I'll address that in a second but we
29:02
in the United States especially in this
29:04
country especially if come to believe
29:06
that things really are free on the
29:09
and really we know better don't we there
29:11
is no free lunch so we are very willing
29:14
to sign up for a free gmail account or
29:16
AOL account or some of these other free
29:18
aspects the other side of that though is
29:20
think about every 25 year old
29:22
billionaire you've ever seen they're
29:25
giving you something for free on the
29:27
the founder of Instagram the founder of
29:30
Facebook the founder of Google write all
29:32
these things are free yet they are multi
29:34
billionaires making well faster than
29:37
ever in history at younger ages than
29:39
ever because they are essentially
29:41
arbitrage in their understanding of the
29:44
value of your information and your lack
29:46
of understanding or or care or
29:49
forethought about those things so every
29:51
time you send a Gmail or a free email
29:53
you are essentially are losing in a
29:56
trade to multi billionaires that are
29:59
winning that trade every single day
30:01
let's talk a little bit about passwords
30:03
how often those of you in the audience
30:06
who update your passwords do you do it
30:09
we try to do it every six months but now
30:11
the question is is your password going
30:14
to be stolen so to offer something to
30:17
our viewers and participants what's the
30:19
latest on passwords there is an art and
30:22
there is a science to passwords and
30:24
these are the keys to your kingdom and
30:25
they're not going away anytime soon and
30:28
so we have to get better at managing our
30:31
passwords like they were the keys to the
30:33
front door of your castle first of all
30:36
the power of math understand the power
30:38
of math passwords have to be long
30:40
unfortunately the longer they are the
30:44
more the harder they are to crack and
30:46
the way math works if we have any
30:48
mathematicians in the audience at around
30:50
14 characters a password becomes really
30:53
hard to hack with current software you
30:57
need a password this 14 characters are
30:59
longer that's the bad news and by the
31:01
way nobody's brain no matter how smart
31:03
you are is wired to remember very many
31:06
14 character passwords so you're not
31:08
alone when it comes to that now on the
31:12
erroneously that it must also be complex
31:16
which means uppercase lowercase numbers
31:20
characters it really doesn't have to be
31:22
complex that's the part we have to
31:24
unlearn it has to be long and it has to
31:28
be random if there is a nursery rhyme or
31:32
something that has words string together
31:34
you can't use that because it's
31:36
predictable but you can't invent a
31:38
phrase maybe one a quote or a piece of a
31:42
quote or something that's meaningful to
31:44
you I was coaching my at that time
31:46
fourteen-year-old daughter to try to
31:48
help her with some better password
31:49
habits and I said thing and she's
31:52
rolling her eyes at me like any
31:53
fourteen-year-old would especially
31:54
around cybersecurity and passwords and I
31:57
said Kendall think of a phrase and she
32:00
said I don't know daddy mary had a
32:02
little lamb that's what she said I said
32:04
all right let's mix that up a little bit
32:06
let's make it Kathy had a big cow now
32:10
here's a phrase she could remember her
32:13
cue would be mary had a little lamb her
32:16
spin was Kathy had a big cow there's a
32:19
password now what we recommend though is
32:22
using a password manager so that all
32:24
your other passwords can be longer more
32:28
difficult not even random just
32:30
completely completely random not even
32:33
phrases too so that you use your master
32:36
passwords your master key to get into
32:38
that password manager and the password
32:40
manager does the rest with the other 50
32:42
accounts that you have so there you have
32:46
it you've got some do you want to put
32:49
question mark dollar sign does that
32:51
present doesn't necessarily help you can
32:53
that's called hashing it up and you can
32:55
do that as long as you can remember
32:56
where you put those and but that can
32:59
help you make it a little bit longer
33:00
Kathy had a big cow exclamation point
33:03
dollar sign or show of hands how many
33:05
people in our audience store photos and
33:07
documents in the cloud okay the cloud is
33:11
really you say a computer it is a lot of
33:14
people still have a hard time grasping
33:17
what is the cloud the cloud is just
33:19
somebody else's computer it used to be
33:21
that all of our stuff was under the desk
33:24
at home or on your hard disk now it's
33:28
out there on other people's clouds
33:29
whether it be the banks clouds the
33:31
department store computers what-have-you
33:34
you just have a connection to that
33:35
information now that's what the cloud is
33:38
you mentioned something about fog
33:40
computing today I thought that was a
33:42
joke that was afraid to laugh at me
33:44
because I was afraid that it would be
33:46
out of place what is that
33:47
it's really wood it's implying that this
33:51
information is becoming more and more
33:53
ubiquitous and instantly available and
33:56
that's what happened something happened
33:58
in 2007 that was really a watershed
34:00
event and that was in January when Steve
34:03
Jobs held up the first-ever
34:05
iPhone I don't know if anybody remembers
34:07
that but he held it up we didn't know if
34:10
the Apple was gonna have a phone or not
34:11
it was a really big deal so it was the
34:13
first iPhone and he pointed to it and he
34:16
this changes everything and he was right
34:20
and it wasn't the iPhone it was the
34:23
smartphone it was the fact you could
34:24
have a supercomputer in the palm of your
34:26
hand and he essentially said in so many
34:28
words you will be humming your lives off
34:32
of this every element of your life
34:34
personally and professionally will be
34:36
hubbed off of this so shortly thereafter
34:38
marketer companies you know that are
34:40
very astute from a marketing standpoint
34:42
said wow you know what consumers don't
34:44
want to go home and use their computer
34:46
they want to use it on the subway you
34:48
know wherever they are to bank and
34:50
browse and shop and communicate so we
34:52
need to have that information available
34:55
wherever they are that is the cloud now
34:58
with fog it's actually becoming even
35:02
closer as a result of caching
35:05
information I want to get too technical
35:06
but again using artificial intelligence
35:09
using your sort of historical experience
35:13
to know what you were inclined to want
35:16
at any particular time would photos
35:18
you're gonna access what accounts so
35:20
that it's constantly there just like
35:23
this without even having to go any
35:25
further to the cloud to get it it's in
35:27
the fog it's in the ether if you will
35:29
we've given a lot out there we're gonna
35:30
start taking questions as quickly as
35:32
possible if you have a question for
35:34
Brad's come right down to our microphone
35:36
you can ask it also for our YouTube
35:38
audience that is watching us your
35:40
questions send them to us immediately
35:42
and my colleague Alan Pratt will read
35:46
them so that everybody will be able to
35:48
hear him and Brad will be able to answer
35:49
them put those questions in right now
35:51
precious minutes available for you to do
35:53
that as we await our first question
35:56
though this your quote cybersecurity is
35:59
in the first innings of the new digital
36:02
age right what did you mean by that what
36:05
I mean is that I think that cyber risk
36:07
and cybercrime is really a symptom of
36:10
something much bigger and that is
36:12
humanity's transition to the digital age
36:16
members of the audience might know
36:18
Nitschke and Nitschke wrote a lot in the
36:21
late 19th century about humanity's
36:24
ability to adapt to the industrial age
36:27
and he wasn't necessarily an optimist
36:28
and in a lot of cases people would say
36:31
he predicted World War one he said if
36:33
individuals families communities
36:35
countries governments don't adapt to the
36:39
new Industrial Age and at that point
36:41
something like 80% of the globe's
36:43
economy was agrarian so this was a
36:46
really big deal at the time and
36:47
basically those gears are gonna chew you
36:50
unless you adapt and he also said that
36:54
unless you provoke others to adapt
36:58
because when you come into a new age
37:00
everything changes and you can't draw on
37:03
your experience or your education
37:05
necessarily to help you survive and
37:08
succeed in the new era so you have to be
37:10
provoked and stimulated and taught and
37:13
educated to think differently and to
37:15
hold yourself accountable or have
37:17
somebody else hold you accountable to
37:18
survive and succeed during that change
37:20
that's where we are right now and so the
37:23
low-hanging fruit is really those that
37:25
are not adapting fast enough with
37:27
hackers that just know it right they're
37:30
just further up the curve if you will in
37:32
understanding technology and information
37:35
and exploiting those that might not
37:37
understand it is well and taking
37:39
advantage of that situation I think
37:42
eventually the low-hanging fruit and
37:45
sort of the easy nature of cybercrime
37:50
will not be what it is today but being
37:52
the early innings this is what we have
37:54
okay and we can take questions at any
37:56
given point so feel free to put them
37:59
I'll get the signal to go to Alan who
38:01
will read the question but in the
38:03
meantime we want to hear from you step
38:04
up to a microphone we have microphones
38:06
set up you can ask you a question
38:08
directly at Brad so come right up now
38:10
let's do that in the meantime a lot of
38:13
people think it's the government's job
38:15
to fix all this you say that a lot you
38:17
spoke of that earlier I mean that's why
38:19
principally why you're in business and
38:22
having a lot of clients what role does
38:24
the government play they don't act as
38:26
the Federal Trade Commission they don't
38:27
watch this and say that's inferior don't
38:30
use it or you need to step up do they
38:33
have a role in this so you're right mark
38:37
a lot do say where's the federal
38:38
government in this and they really do
38:40
blame the government and many are
38:41
waiting for the government to fix it for
38:43
them which probably isn't the best idea
38:45
so the government's I think role they're
38:48
still trying to figure it out it's about
38:49
awareness it's about education at the
38:52
end of Obama's administration last year
38:55
his Commission on cyber risk recommended
38:59
that something like 50,000 new cyber
39:02
practitioners need to be employed
39:04
between 2016 and 2020 now notice he
39:08
didn't use the word computer scientists
39:14
it's not about cybersecurity
39:16
practitioners almost like a plumber or
39:21
for the digital age to be out there with
39:24
people that don't have an IT department
39:26
to help them come up to speed a little
39:28
bit better but we're not really seeing
39:30
any of that put into action what we are
39:33
seeing today I don't think is near
39:36
enough it's more around requiring
39:38
companies to report when they're
39:40
breached kind of like after the fact we
39:43
should be told about it and that's good
39:45
information but it really doesn't help
39:47
necessarily prevent these things opening
39:50
comment dr. Gary Kessler joins us now
39:52
tonight I actually had a philosophical
39:56
question with all these changes I mean
39:59
and in our transition from an agrarian
40:02
society to industrial society etc etc
40:04
and with Moore's law all of these
40:06
changes are happening at exponential
40:08
speeds so with people having to adapt
40:12
way more quickly than we're used to
40:14
adapting and the disparities that we
40:16
find with digital divides and things
40:18
like that can you speak a little bit to
40:19
how that is going to affect people in
40:21
the economy yes yeah great point dr.
40:25
Kessler so the question you know how
40:27
does all of this change affect workers
40:30
and the economy and sort of a
40:32
you know way that the country works
40:36
profound profound changes artificial
40:40
intelligence and robotics will change
40:44
the nature of the complexion of the
40:46
workforce entirely I think that Nitschke
40:49
and some of the challenges around the
40:50
Industrial Age where the concern that
40:53
machines were gonna replace human labor
40:56
and in a lot of cases they did machines
40:59
replaced human labor with artificial
41:02
intelligence and in some cases robotics
41:04
we're talking about replacing cognitive
41:07
functioning our brains which you know
41:11
since that time the last hundred hundred
41:13
and fifty years really have not been
41:14
challenged by technology we still needed
41:17
a human to add the element of judgement
41:20
and add you know a greater element than
41:23
just the machination Zoar time and
41:25
motion movements of a machine so I think
41:29
it's far underestimated what that impact
41:32
will be dr. Kessler I think we are
41:34
tremendously underprepared but when we
41:37
think about our youth and we think about
41:38
coaching and counseling them and how to
41:40
survive and succeed for the future you
41:43
know if you're thinking about a
41:45
profession in law the legal industry and
41:49
ten years won't look like anything in
41:51
fact down where we live in South Florida
41:52
well here we are in South Florida almost
41:54
just after the hurricane a law firm came
41:57
out with a bot that would file your FEMA
42:00
claim for you that means basically
42:04
artificial intelligence interviewing you
42:07
and asking you the questions and
42:10
collecting your information
42:11
if you were eligible for a FEMA claim
42:14
and filing it on your behalf
42:16
how many lawyers is that going to put
42:18
out a business for example Wow that
42:20
applies to every industry that we have
42:22
over here you're questioning today
42:24
evening right into the microphone please
42:26
and if you would tell us your name and
42:28
what your study you are here at
42:29
embry-riddle Electrical Engineering what
42:39
is it about the cloud like the nature of
42:41
the cloud itself that makes it so
42:43
inherently risky to use great question
42:46
and I know that that's on the minds of
42:48
many so what what is what makes the
42:51
cloud risky and and you know I when I
42:54
was a banker I remember certain words
42:57
would become bad words at certain points
42:59
in time like options options were really
43:02
bad word one time derivatives you know
43:04
but I mean I I know people that grow
43:06
sugar in the state of Florida and
43:08
they'll tell you without options and
43:10
derivatives they'd never be able to
43:11
survive hedging their commodity prices
43:13
right so the cloud is not a bad word
43:16
cloud is not a risky word it's taken on
43:18
that connotation but the reason it's
43:21
taken on that connotation is because now
43:23
what was once yours and you could get
43:25
your arm around and it was under your
43:27
desk or it was right there on your
43:28
laptop is now distributed not only is it
43:32
distributed and under the control and
43:35
held accountable by somebody other than
43:37
yourself but it is also accessible by
43:40
many other parties a cloud is not only
43:42
somebody else's computer that you have
43:44
access to it's somebody else's computer
43:46
that many many many other parties have
43:49
access to so all of those things
43:51
increase the vulnerability or the
43:55
susceptibility of something nefarious
43:57
happening but there are clouds that are
43:59
also very secure we're going to come
44:02
over here in one second right now for
44:03
our worldwide audience Allan Pratt with
44:06
a question Allan this is a question from
44:09
Scott an alumnus and cyber security
44:11
engineer he says Brad what are your
44:13
views on host-based antivirus programs
44:16
are they obsolete due to Moore's law in
44:18
terms of malware creation
44:21
okay so I think I understand the
44:23
question is antivirus today antivirus
44:26
solutions in the second half of the
44:28
question Alan that was are they obsolete
44:31
due to moral law in terms of malware
44:33
craze okay all right so great some of
44:36
the antivirus companies you may know the
44:38
names like norton mcafee some of the
44:40
ones that you would buy in a box some
44:43
years ago or comfrey when you get your
44:46
internet through the cable company is an
44:48
example they've actually said we you
44:51
know we're going out of business we
44:52
can't defend our antivirus business
44:54
cannot defend against these threats they
44:58
morph very quickly there are tens of
45:00
thousands of new threats every day and
45:03
the way that these antivirus systems
45:06
operate can't stand up against this type
45:09
of evolution so now the new version is a
45:15
hosted version which we use and we
45:17
believe in that is where a third party
45:19
that's remote a professional network
45:22
operations center for example does all
45:25
of the antivirus functioning all the
45:28
not on your device but someplace else
45:30
that's good news because it took a lot
45:32
of resources from your device but
45:34
there's also good news because now you
45:35
don't have to constantly be checking for
45:37
updates and making sure it's like when
45:39
you leave the house you know you have to
45:41
make sure your home alarm is on and it's
45:43
set and all the lights are right and
45:45
everybody's going according to protocol
45:47
that doesn't always go well either so to
45:49
have somebody else that's a professional
45:51
fully accountable for that is great for
45:54
example our operation as soon as a new
45:56
threat is identified within 60 seconds
46:00
of identifying that threat we're
46:01
patching your device your smartphone
46:05
your computer to defend against that
46:07
it's very easy once you identify the
46:10
it's almost only math in terms of
46:12
defending against it so now you can be
46:15
pre-emptive you can be in real time and
46:17
have much higher efficacy through a
46:21
hosted version of malware now as Moore's
46:24
Law goes and these things proliferate
46:26
and they more faster more artificial
46:31
intelligence more machine learning more
46:34
mystics another word for the future to
46:36
know which means if it looks like this
46:40
and if it looks like a duck and quacks
46:43
like a duck it probably is a duck that
46:45
sort of thing right a lot of those
46:47
advanced Sciences are coming to bear in
46:49
hosted antivirus solutions we're
46:52
believers in them we think they're
46:53
keeping up with a threat and we'll see
46:56
how that goes in the future we'll go
46:58
back up for another question but first
47:00
over here your name in your field of
47:02
study and year here at embry-riddle
47:03
hello my name is Joseph physics and my
47:10
main question was how much is cyber
47:13
crimes costing America nationally and is
47:18
it being handled well what got me is the
47:23
status like did how is house like the
47:26
future okay right alright so what is the
47:30
economic cost to the country so I
47:34
remember in 2013 The Wall Street Journal
47:38
had an article and it said you know this
47:40
cyber security the cyber risk cybercrime
47:42
deal is getting to be a big deal we
47:44
think in 2013 it's gonna cost the
47:46
domestic economy a hundred billion
47:48
dollars that was a really big number and
47:51
everybody went wow it is a big deal
47:53
hundred billion dollars right by 2014
47:56
Lloyd's of London had pegged that
47:58
economic estimate globally if 400
48:01
billion the following year a company
48:07
I'm sorry called um I can remember the
48:11
name they're out of Chicago
48:12
multinational company they did it a 1
48:14
trillion dollar number now Microsoft and
48:18
the World Economic Forum jointly did a
48:20
study they believe the global problem by
48:23
the turn of the decade is a three
48:26
trillion dollar economic hit globally
48:30
the impact from cybercrime both from an
48:34
economic stability and national security
48:37
level is not being handled very well at
48:39
all probably especially in the US but
48:42
certainly everywhere in the world I
48:44
think you said that we've passed 50% in
48:46
terms of crime cybercrime related it's
48:50
gone past the 50% mark it it did in the
48:53
UK we I wrote an article in early 2017 I
48:57
said cyber risk is now existential right
49:00
you hear that word these days
49:01
existential I remember it first got my
49:03
ear when Obama said terrorism is not an
49:07
existential threat and I think when he
49:09
said you know terrorists and al Qaeda
49:11
was the JV I think what he missed was
49:13
the digital age honestly yes they were
49:16
just a couple of sloppy warriors
49:18
someplace but they had the network they
49:21
had the network that was the game
49:23
changer that maybe wasn't fully
49:24
appreciated but yes Marc in early 2017
49:28
the FBI version in the UK said that over
49:33
half of all crime in the UK was cyber
49:35
related so you take petty theft bank
49:38
robberies all drug crime anything that's
49:41
a crime put it all together it still is
49:45
cyber crime is still greater than all of
49:47
it in the aggregate once again here's
49:50
Alan all right we have a question from
49:53
Malcolm Dryden who was a 1986 graduate
49:55
of Daytona Beach he asks cloud storage
49:59
seems to be a huge target for data
50:00
thieves wouldn't it be more secure for
50:02
everyone to store their own data on
50:04
their own devices thereby making it
50:06
harder to find so sort of the reverse
50:11
right we're experiencing where our data
50:13
is being distributed to the point where
50:15
it's called clouds and ether and even
50:17
fog why wouldn't we just bring that back
50:21
so that we could get our arms our back
50:23
around it and hold it accountable and
50:26
not have these risks I think it just
50:29
goes contrary to human nature there
50:32
might be an argument that that could be
50:34
safer I think you still have to worry
50:36
about theft and fire and floods and
50:38
other things that can they can affect
50:41
your data but even if you assumed that
50:44
it could be held perfectly safe people
50:47
data itself much less with the internet
50:51
it just is human nature it is just the
50:55
way civilization is always
50:57
operated secrets and sort of hoarded
51:00
information just never lasts very long
51:02
but over here your question now for Brad
51:04
hello my name is Jacob I'm a junior here
51:07
my major is communications Jacob
51:10
earlier in your talk you mentioned about
51:12
vizio being sued by the state of new
51:15
jersey about their TVs having a camera
51:19
that would continue to record
51:21
conversation after the TV was turned off
51:23
right I recently read a news story about
51:26
a couple weeks ago where a man claimed
51:29
that when he was scrolling through his
51:32
Facebook account he saw an ad for
51:35
something that he remembers talking to
51:38
someone about in conversation and he
51:41
claims that Facebook may have heard it
51:45
through the microphone and his
51:47
smartphone and tailored the ads to what
51:51
he said right is there any truth to that
51:55
and is that technically an invasion of
51:58
I have heard plenty of stories that
52:02
sound just like that do I know as a fact
52:05
that that's what they're doing I don't
52:07
know I also know some things where you
52:10
think you've connected the dots and you
52:12
make an assumption based on those
52:13
connecting the dots there are a lot of
52:15
other dots that you might not be aware
52:17
of for example there's now a kind of a
52:20
famous story of a father that while he's
52:24
at home he starts getting all these
52:26
coupons in the mail and junk mail for
52:29
discounts on diapers and baby food and
52:32
he's got a 17 year old daughter in the
52:34
home and so he started to look into it a
52:37
little bit more well CVS had figured out
52:39
his daughter was pregnant because of her
52:41
activities in the aisle monitoring her
52:44
activities in the aisle as a consumer
52:46
and just reversed engineered that
52:49
information to further market into the
52:51
home for more sales creepy so he found
52:55
out his daughter was pregnant through
52:56
CBS so my point is there are a lot of
53:00
dots out there and sometimes we might
53:01
presume they're being connected in one
53:03
way when they might be can I
53:05
in another way that's creepy we have a
53:07
question from over here good evening
53:10
good evening thank you writing for the
53:13
microphone I'm a sophomore here and I
53:16
was curious what you think
53:17
net neutrality role plays in all of this
53:21
net neutrality ready for that yeah net
53:28
neutrality honestly I feel like I should
53:30
defer to dr. Kessler he's really much
53:33
more of an expert than I am maybe dr.
53:35
Kessler you want to give a couple of
53:36
words and remind you still under oath
53:38
you want to step up dr. Kessler actually
53:43
wrote an article for my company on net
53:45
neutrality that's the only reason you're
53:47
having me come back here my cut is is
53:52
that net neutrality is the reason that
53:54
we have the internet that we have today
53:56
I look at one example you mentioned
54:00
Facebook I think if we did not have net
54:02
neutrality we would not have the
54:04
Facebook that we have today because
54:05
MySpace would have made sure that they
54:07
never saw the light of day I believe
54:10
that net neutrality is essential so that
54:12
people who have good ideas can get to
54:15
the Internet to market those ideas and
54:17
share those ideas which is the exact way
54:19
that the tcp/ip protocol suite was made
54:22
to work people would have a new idea
54:24
they would say well let's see if I can
54:26
get this to work and all they needed
54:27
were other people that could come up
54:28
with independent implementations of that
54:31
good idea of that good application and
54:33
all of a sudden you know had an internet
54:34
standard which people had a choice to
54:36
use or not use if we don't have net
54:38
neutrality the Internet service
54:40
providers are gonna have a lot of say as
54:42
to where we can get to quickly and where
54:45
we can get to slowly and the nature of
54:48
people is I'm gonna go where I can get
54:51
to fast and I'm not gonna go to the
54:53
places that I can't get to fast and so
54:55
we will have people on the low end of
54:57
the market who can't afford to buy their
54:59
way and who will not be able to get in
55:00
Wow Brad I'm having one of those moments
55:04
where you think you heard something but
55:06
you're not sure and I'm thinking did I
55:08
dream this or did somebody say this that
55:11
recently the Alexa the Amazon Alexa was
55:15
used in a commercial and when they
55:19
anyone who had a television on it
55:21
activated their Alexa that was in the
55:23
room and sent a signal as to how many
55:25
people were watching the game I don't
55:27
know is this Amazon trying to measure if
55:30
their commercial was effective by how
55:31
many viewers participated can you
55:33
explain that because that is for a while
55:35
it's like three-dimensional advertising
55:37
yeah so you know a lot of important
55:41
information is collected around who is
55:43
watching what that's how they sell
55:45
advertising and that's how the business
55:46
the industry of marketing is made what's
55:49
really hard now with the internet we're
55:51
constantly changing channels and fast
55:53
forwarding through commercials and so
55:55
the value of that information or the
55:57
ability to put accurate information
55:59
together is harder and harder so here on
56:02
a football game there's an Amazon
56:04
advertisement for Alexa the personal
56:06
assistant unit and they know that when
56:09
they say the name if a watcher has an
56:11
Alexa unit it will spark up that'll go
56:14
on and maybe even answer the question so
56:17
that is instant information how many
56:20
people are watching the game right now
56:22
at this moment that's very valuable data
56:25
it might also be used by Amazon to see
56:28
how many people are actually watching
56:29
the advertisement how do they respond to
56:31
that advertisement and again this is
56:33
data they're from a marketing standpoint
56:35
data is the new oil they'll get it
56:38
however they can they'll mine it however
56:41
they can get it stained with this Alexa
56:44
thing and by the way we have
56:45
opportunities for your questions through
56:47
our YouTube audience please send us your
56:49
question now plus if you have questions
56:51
in the audience please come down to our
56:52
microphones we still have a few more
56:54
minutes for this things like Alexa where
56:58
people have these things in their home
57:00
and they can use it to find music or
57:03
even to order a device it smacks of
57:06
laziness no more research you just speak
57:09
to a device but it's also frightening
57:11
and another way if it could be used for
57:15
NBC News reported about a discussion
57:17
about whether Alexa should be in hotel
57:19
rooms for whatever they collect from
57:22
their commands that are used is Amazon
57:24
re-examining where they're gonna put
57:26
these devices or showcase them or they
57:28
have not crossed that path yet I don't
57:30
believe they've crossed that path yet
57:32
I don't think there's any second
57:33
guessing or second thinking at this
57:35
point at all but to your point mark the
57:37
legal industry is wondering when is
57:39
Alexa going to be on the witness stand
57:41
yeah I think somebody even tried this
57:44
wasn't there a murder or something a
57:47
crime committed the Alexa device was
57:50
present right and they tried to actually
57:51
you know or use it as evidence yes did
57:55
they I think they ruled they couldn't
57:56
they couldn't in this particular case
57:58
that's frightening yeah a little bit
58:03
about your business now who's calling
58:05
you who calls your company is it private
58:07
individuals is it companies is the
58:09
international governments who calls you
58:10
so it's been a such an interesting
58:12
observation over the years to see now
58:15
remember that when I started the
58:17
business we wanted to come way down the
58:20
food chain Alma 99% plus of our
58:24
customers have never bought
58:26
cybersecurity solutions before in a lot
58:29
of cases they weren't even thinking
58:30
about it until I got in front of them so
58:32
their new customers to the industry they
58:35
are newly aware their new demand their
58:37
new users of this technology we don't
58:40
sell necessarily into IT departments we
58:43
don't sell necessarily into fortune 100
58:45
companies we spend more time in the
58:47
living room than we do the boardroom
58:49
however because of such everyday
58:53
experience real world experience where
58:56
the rubber hits the road at the
58:58
intersection of people their personal
59:01
technology and risk and all this
59:04
experiential knowledge and insights that
59:06
we're gaining as a result of that we are
59:08
being pulled upstream by large
59:11
enterprises and fortune 100 companies is
59:14
you know what their employees are us and
59:16
they're realizing you know the IT
59:19
department can only do so much we need
59:22
culturally this is a Governance
59:23
Committee issue now we need culturally
59:26
to create adaptation and change and how
59:30
do you get people to think and how do
59:31
you influence them to change we probably
59:34
have as much experience at doing that as
59:36
anybody so who's calling us anywhere
59:39
from we have a great demographic that's
59:42
65 years old plus people don't want to
59:46
don't want to be a victim and they don't
59:48
want to give up their technology they're
59:49
not going to give up we see great
59:52
resilience out there I'm really
59:53
impressed with that so the they tend to
59:56
be educated they tend to be informed
59:58
they tend to have investments that's our
60:00
demographic and they tend to be maybe 45
60:04
years old on up but recently in the last
60:07
six to 12 months we've been getting
60:09
calls from the c-suite large enterprises
60:12
wanting to understand what we're
60:14
learning part of our audience is made up
60:16
of fledging students who might wonder if
60:18
this is a growing field cybersecurity
60:20
will it be one of the faster growing
60:22
sectors of the economy yes I think
60:26
globally and domestically and I think
60:28
everything you read would speak to that
60:30
that there's not near the workforce
60:33
companies can't pay people enough to
60:35
stay they're losing employees all the
60:38
time I think that's one of the reasons
60:39
why like the our vendors that we
60:42
contract with to provide our solutions
60:44
to everyday people are not marketing to
60:48
you right they're marketing to the IT
60:50
department into the government and to
60:52
the Fortune 100 company because that's
60:54
about all the business they can handle
60:56
so we try to act as a facilitator to get
61:00
their products and solutions more
61:01
broadly distributed we're coming over
61:03
here now for a second bite of the Apple
61:05
your question you mentioned a couple
61:07
times artificial intelligence and I know
61:10
there's been a lot of controversy with
61:11
the rise of its ability to solve
61:13
incredibly complex problems and I was
61:16
just wondering how in your opinion would
61:18
that does that affect cybersecurity in
61:21
general or is there any it does it in
61:23
fact it does affect and it's a
61:25
double-edged sword that is it empowers
61:29
the hackers but also increases efficacy
61:32
of the protection but hackers tend to
61:37
uptake new technology and use that new
61:40
technology much faster than the average
61:43
consumer so the advantage will be theirs
61:47
for some period of time let's go up to
61:50
Allen Pratt who has a question from our
61:52
worldwide audience another question
61:54
loneness from embry-riddle how do you
61:58
convince companies especially as they
62:00
have access to more and more personal
62:01
data to take cybersecurity seriously
62:04
instead of waiting for a breach to
62:05
happen before getting a security budget
62:08
boy that's the question of the day and I
62:13
in in it's a very frustrating situation
62:14
because you see the headlines
62:17
Equifax stock I think went down by 7
62:20
billion in a day so the consequences are
62:23
there the CEO is gone you know so people
62:26
are losing their jobs the shareholders
62:29
are getting killed and yet we still have
62:31
a CEO that gets in front of Congress and
62:33
says I don't know if your data is
62:34
encrypted or not and if they weren't you
62:38
know not able to answer the question
62:39
they blamed it on the Russians sort of
62:42
thing you don't really hear anything
62:44
that's tremendously reassuring that
62:47
tells us people are starting to get it
62:50
and they're starting to get it in in in
62:53
a way that applies to what the problem
62:55
is today not just speaking to maybe what
62:58
the problem was yesterday dr. Philip
63:01
works alongside dr. Gary Kessler and
63:04
educated us on the IRS those people we
63:07
spoke with this earlier people filing
63:09
their taxes and suddenly finding they've
63:11
been filed for them right and I asked
63:13
you is the IRS operating under an old
63:16
19th century type of technology and
63:19
system that makes them vulnerable to
63:21
these thefts yes most of the federal
63:26
government is very much so these are the
63:30
people entrusted to protect us about
63:32
that mammals and Gary and really the
63:35
message is that you can't leave it to
63:39
the government you can't leave it to law
63:42
enforcement you can't leave it to the IT
63:44
department it is an existential risk and
63:48
it really is an individual issue that
63:51
starts with a home and family and as
63:53
individuals to themselves we will take
63:56
questions too from the general public in
63:57
addition to the students if you all
63:59
sitting here have a question please step
64:00
up to our microphone the medical
64:03
industry as it relates to HIPAA and
64:05
security now this is a mess yes
64:08
and the hospitals are caught neatly in
64:11
the middle physicians and doctors cannot
64:13
reveal what they know but if people come
64:16
in in the back door stealing that
64:17
information and using it for nefarious
64:19
reasons is that likely that the
64:21
hospitals and the doctors could be held
64:23
responsible for not having the latest
64:25
protection of that information yes and
64:27
we're beginning to see that the HIPAA
64:29
laws that were revised in late 2013 not
64:34
only became much broader in their scope
64:37
but much deeper in terms of their
64:39
consequences now they are not
64:41
necessarily applying the law as you know
64:45
to the letter of the law but we are
64:46
beginning to see some instances we had a
64:49
new customer out of houston doctor who
64:53
left a laptop in his convertible the
64:55
laptop was stolen and his HIPAA fine was
64:58
two and a half million dollars oh yeah
65:01
so there are big teeth and there they're
65:03
approaching in a lot of different ways
65:05
but it is not necessarily enforced the
65:07
HIPAA laws say that if you have any
65:09
access to health records personal health
65:12
records anywhere in the environment that
65:15
you are under HIPAA regulations that
65:19
means if you're a janitor or you have a
65:21
janitorial service and you're cleaning
65:23
up a HIPAA regulated environment you to
65:27
and your business and your operation
65:29
must be HIPAA compliant I will tell you
65:31
none of them are this not to make people
65:34
paranoid but I think of Public Safety
65:36
water electricity we spoke earlier of
65:39
EMP threats in this country but let me
65:42
talk about like the Tennessee Valley
65:43
Authority which controls an
65:45
extraordinary amount of water for six
65:47
states and then their their footprint is
65:50
is wide is there a worry Brad that
65:54
someone could hack into that system from
65:57
the outside and change the chemical
65:59
composition of water affect the drinking
66:02
water or the power that's delivered to
66:04
people is is that too science fictiony
66:07
or is that a real threat it's a it's a
66:09
very real threat and the first instance
66:12
of that which is really sort of the
66:14
harbinger to all of it was something
66:16
called Stuxnet maybe you're familiar
66:21
domestically our intelligence determined
66:24
how to hack Iraqi nuclear plants and
66:28
they did that by hacking a device a very
66:33
small device that was one very small
66:36
component of the nuclear operation and
66:40
it was made by Siemens as a matter of
66:42
fact and just because they were able to
66:44
hack that one small component of this
66:47
overall very large operation they were
66:50
able to reduce or limit the progress
66:53
that the Iraqis were making well that
66:55
applies to any major infrastructure
66:58
whether it be TVA or ATC or any others
67:02
every one of those elements and dr.
67:04
Kessler speaks to the security of
67:06
systems right we talked about the
67:08
security of this and we talked about the
67:10
security of that we don't necessarily
67:12
think about the security of an overall
67:14
system and we still have a long way to
67:16
go so I would tell you that's absolutely
67:17
a very real threat and we will see it
67:19
and we will see it happen and it'll be
67:21
more than once and there have been
67:22
nuclear plants hacked in other places in
67:25
the world and there have been real cyber
67:27
Armageddon type events other places in
67:30
the world and our foes you know World
67:33
War three will start with a mouse-click
67:35
the history of nations is the history of
67:37
weapons and cyber warfare is now the
67:40
weapon of choice it belongs in line with
67:44
the longbow and gunpowder and ICBMs for
67:47
that matter in light of the president's
67:50
trip to Asia where he talked with
67:52
officials from China he also meets with
67:54
Russians we're wondering what's he
67:56
thinking not to go too political on here
67:59
as he looks to Putin and wonders if
68:03
they're hacking what did they have an
68:05
impression on our election you've been
68:07
asked this I know across the country is
68:09
it possible that foreign countries could
68:12
through cyber hacking interfere with an
68:15
election in the United States yes and I
68:17
think it's silly to believe that it
68:19
didn't happen or that the Russians and
68:21
many many others were not meddling we're
68:24
trying really hard to meddle I think
68:26
that that's incredibly naive so it's
68:29
it's possible for them to what interfere
68:32
with a voting device or the tabulation
68:36
the spreading of propaganda we learned
68:39
from james woolsey from the CIA who was
68:41
here a couple of weeks ago there are
68:42
more people doing misinformation in
68:45
Russia that actually serve in the Armed
68:47
crazy thought but he said it's true
68:49
right right and so I think you know
68:53
James clappers point they're not only
68:55
just aiming at the TVA and the large
68:57
infrastructure but they're aiming in
68:59
volume it's society and civilization in
69:02
general because they can and because of
69:05
the tremendous if they just want to
69:07
I mean look my business was almost out
69:11
of business for a week after the
69:13
hurricane we had to drive hours just to
69:15
get connected to the Internet there was
69:18
nothing we could do nothing would move
69:20
we you know it was a very difficult
69:22
situation think about what that what
69:24
happens on a broad basis everything
69:28
freezes nothing happens and it's not a
69:30
good position so that's a lot of power
69:32
if somebody wants to be using it against
69:34
you okay I'm wondering about this we're
69:36
just days away from the anniversary of a
69:38
great black out I think of 1964 in New
69:42
yeah so we're not talking about an
69:44
attack but we're wondering about cyber
69:47
failure right are we better than we were
69:49
much better than we were 50 years ago in
69:52
terms of being able to not have a
69:54
failure because we just are antiquated
69:56
we've been speaking a lot tonight about
69:59
attacks but what about our own failures
70:01
because we don't have updated systems
70:03
the internet was built to be incredibly
70:06
redundant so an ICBM or anything else
70:10
could take out a major portion of the
70:12
Internet and the internet would still
70:13
operate and survive and in that very
70:17
basic element of design I think holds
70:21
true today and makes it incredibly
70:23
resilient so yeah I think there can be
70:26
loci I don't think anybody could take
70:28
out the entire internet and bring it all
70:30
to its knees there could be broad swaths
70:33
of activity but I don't know that it
70:35
could be more than that a couple years
70:36
ago one of the builders in our community
70:39
talked about an ongoing series of thefts
70:41
of appliances from model houses being
70:44
built in the community what they then
70:46
decided to do was put GPS
70:48
on stoves refrigerators microwave ovens
70:52
so if the bad guys did break in and
70:54
steal them they'd be able to be found
70:56
quickly this is the question is this an
70:59
ongoing thing that we're just starting
71:01
to find out maybe existing that
71:03
manufacturers are putting these
71:05
microwavable or they're putting chips in
71:08
devices - I guess determine what time of
71:10
data would use them how long do we use
71:12
them what do we use them for and we're
71:14
unaware of this yeah that's essentially
71:16
what the Internet of Things is Wow in
71:19
fact you can actually buy cables now
71:21
that have GPS is built into them so you
71:24
might be suspicious and be looking on
71:26
your laptop to be sure nobody's spying
71:28
or tracking on you but you didn't think
71:30
to check the cable the cable cable Wow
71:33
how many people knew this okay one more
71:37
sweep around the room before we we have
71:39
an intimate crowd here tonight if you
71:41
have a question watching us on YouTube
71:42
please put that question to Alan right
71:45
away we'll get that answered and anyone
71:47
in the audience that may have a question
71:49
we simply want you to be on record so
71:51
that you can step up to the microphone
71:53
some of some concluding thoughts from
71:55
here where is the next thing that
71:58
viewers should be watching that could be
72:01
a challenge with the Internet as it
72:03
affects their daily lives we've talked
72:05
about the monetary aspect of it security
72:08
is it security in their home and the
72:10
reason I mentioned this is we did a
72:11
story a couple of weeks ago that one of
72:14
them some company wants to do home
72:16
delivery but here's how it's gonna work
72:18
it's they're testing it in California
72:20
they'll come into your home they'll
72:22
bring the groceries or whatever it is
72:23
you bought put it in your refrigerator
72:26
mind you right and leave but I think
72:28
this has got legal disaster all over
72:30
it's from the movie who stole my cheese
72:33
you know what I'm saying what about
72:34
things like that yeah I think we're
72:37
gonna have to keep an eye on all of
72:38
those things but I think there's
72:39
something that's more predominant and
72:41
more in at hand today and we'll really
72:44
ramp up quickly in a big way like in the
72:47
immediate future and that's hacking over
72:50
public Wi-Fi systems it's very easy with
72:53
a very inexpensive device to sniff it's
72:56
a technical term to sniff the Wi-Fi
72:59
airwaves in Starbucks or the hotel or
73:02
wherever you happen to be connected on
73:04
your Wi-Fi and essentially watch
73:06
everything that you're doing over over
73:10
those communications I would say that's
73:13
the evolution of pickpocketing these
73:16
days you don't have to steal somebody's
73:19
purse or wallet or identification
73:22
physically you can do it digitally
73:25
without ever touching them and without
73:27
them ever knowing until well after the
73:30
fact that they've been harmed in some
73:32
way and again there's not much scene of
73:37
the crime people don't realize they've
73:39
been electronically pickpocketed until
73:42
and so that profit motive is driven down
73:46
all the way to the basic element of a
73:48
street criminal and so much of crime now
73:51
is converging with cybercrime that
73:54
traditional crimes of the world whether
73:56
it be pickpocketing or extortion or
73:58
blackmail or whatever they've been over
74:00
the eons of humanity are now finding
74:04
their digital application in hacking of
74:07
the Wi-Fi airwaves I think is one that
74:09
people are not near aware of that they
74:12
need to be finally and you've been very
74:14
gracious in answering all of these
74:16
questions if folks want to learn more
74:19
about what your firm does or would like
74:21
to follow up for individual consultation
74:24
what's the best way for them to do that
74:26
with total digital see the best way is
74:28
to find us on the internet our website
74:31
imagine that right just go to the cloud
74:33
find a total digital security that's
74:36
three words total digital security
74:38
dot-com and we publish a lot of I think
74:41
really good information that is about us
74:43
in our daily interaction with our
74:45
technology and how we can be a lot
74:47
smarter about that and defend ourselves
74:49
and we and we hope that it's empowering
74:51
a lot of this stuff is scary but we
74:54
don't lead with fear we really lead with
74:56
empowerment because there are answers
74:58
and honestly the crime is so rampant
75:01
that if all you do is come down off the
75:03
radar by this much cuz you're not
75:05
Hillary Clinton or colon Powell we're
75:07
not being targeted we just have to get
75:09
off the radar a little bit it's kind of
75:11
like if we're the only house on the
75:13
street that is locking our door and has
75:15
Doberman and every other house has the
75:18
front door wide open the bad guys
75:20
probably going to pass our house and so
75:22
that's why we we invite you to visit our
75:24
site at total digital security comm and
75:26
see what some of these measures are that
75:28
you can take yourself now we didn't
75:30
touch upon this we were supposed to talk
75:32
about it last week and our guests could
75:34
not make it to Daytona Beach many of the
75:36
folks watching us traveled by air I'll
75:39
be traveling by air myself in the next
75:42
few months and I guess the question is
75:44
how safe are we in the air against
75:48
somebody trying to take out a plane or
75:49
land it prematurely how are we so I
75:52
think you're in a state of much higher
75:55
risk when you're behind the keyboard
75:57
then you are in the cockpit or sitting
76:00
on the airplane for that matter I don't
76:02
think there's much risk to that I think
76:04
there is risk of information loss one of
76:08
our audience members actually hacked an
76:10
airplane Wi-Fi system recently and found
76:13
a lot of information on that system it's
76:17
easy to do so the risk is not
76:19
necessarily I think of the airplane
76:20
going down it's just being very
76:22
conscious of what you do on a public
76:24
network if you're not using a VPN or
76:26
encryption or something else to to
76:28
protect yourself I'm not trying to be a
76:31
stickler but isn't that unlawful I don't
76:34
know I think he was in a legal position
76:36
at the time I want to thank our office
76:41
of alumni relations for putting this
76:42
thing together tonight we hope that
76:44
you've enjoyed watching on youtube and I
76:46
want to thank Brad as well as Alan Pratt
76:50
for working with us tonight Tony Pietro
76:52
Bob score Patrick and Evan who helped in
76:55
addition to putting this together before
76:56
you go let's tell folks what's going to
76:58
be happening when we come back tomorrow
77:00
night an evening with Major General
77:03
Linda sine this lady is very interesting
77:06
because not only did she have to
77:07
overcome adversity herself she speaks to
77:10
the issue that has been very much in the
77:12
news about sexual harassment and
77:14
impropriety this woman has spoke out
77:16
about this she's a remarkable study in
77:19
doing the right thing and she could
77:21
offer insight into the trouble that was
77:23
in Maryland as she was the head of the
77:24
National Guard and dealt directly with
77:27
the governor during some of the trouble
77:29
recently that's tomorrow night then we
77:31
conclude our fall series on Monday night
77:34
with an old friend of Embry riddles CBS
77:36
newsman Bob Schieffer the former host to
77:39
Face the Nation will be here to talk
77:42
we're expecting a full house for that we
77:44
invite you to get here early Bob will be
77:47
signing copies of his book so everyone
77:49
gets a chance to meet Bob Schieffer
77:51
remarkable journey he was with us 17
77:54
years ago two days before the
77:56
anniversary of the Kennedy assassination
77:58
bob was in Dallas working for the Fort
78:01
Worth Telegraph that day and tells us
78:04
who got in the car with he and another
78:07
reporter I think you'll find the story
78:09
very intriguing that's coming up next
78:11
Monday night here at embry-riddle and
78:12
the speaker series once again ladies and
78:14
gentlemen thank you for your time
78:15
tonight and be with us a round of
78:17
applause for Brad thank you thank you
78:21
and have a pleasant evening