Here, we look at internet browsers and make a recommendation for optimal privacy and protection of your personal information.
I've always used multiple browsers - Safari, Chrome, and Explorer. Sometimes, one would work better than the other, depending on my online activities at the time. In early 2019 I added Mozilla Firefox and made it the default browser for all my devices. Mozilla's nonprofit status and the privacy features in Firefox, coupled with good performance and user experience, were essential to me.
I was disappointed in Mozilla earlier this year when they censored some content and users from Firefox. Since then, I've been trying alternatives to find a suitable replacement - one that worked for me, not Big Tech. Then, last month, after so many years of blatant abuse and learning the extent of Google's wrongdoing, I expelled Chrome from my quiver of browsers; Goodbye Google.
I didn't stop there. I completely removed Google's software from my personal and business computers and phones.
I deleted Chrome and Google Maps from all devices.

We don't use Gmail, but for those that do, we recommend firing it too.
It seems others agree:
"Why You Suddenly Need To Delete Google Chrome"

Aug.28th - Forbes.

"Want to see just how bad Google Chrome is?"

Sep.1st - ZDNet
Hello Brave
Brave is a free and open-source web browser developed by Brave Software and built for privacy. It's unique from other browsers in that it automatically blocks online advertisements and website trackers by default.
"Three times faster than Chrome. Better privacy by default than Firefox."
These are some third party comments on Brave: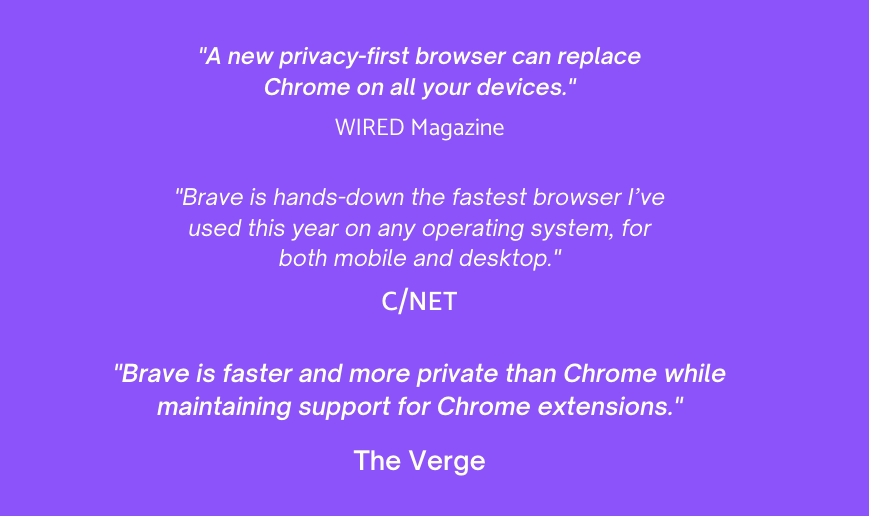 For anyone seeking optimal internet privacy and security coupled with outstanding performance and user experience, say hello to Brave.

The engineering behind Brave is impressive. It is fast, intuitive, totally geared to serve and protect the user, and it tees everything up, so it's easy to be in control of the browser and your personal information.
I found the migration to Brave to be simple, intuitive, and very convenient. It does everything for you, like add your extensions (F-Secure, LastPass) and your bookmarks. It has a password manager, but I disabled it because I rely on LastPass for everything related to passwords.
I recommend creating an account with Brave and signing in on each of your devices.
For me, it's Brave as my default browser, with Safari and Firefox on deck if I need them. Be sure to view the Brave video in the first news tile below.
✓ For best-in-class privacy and security, use Brave as the default browser on all your devices. https://brave.com
Contact us for personal cybersecurity products and services.