If you want to see the state of innovation in crime around the world, watch what's happening in cyber. Smart and sophisticated criminals everywhere are re-tooling their craft for the greatest opportunity in the history of their profession. The risk of getting caught is low, the reward high, and it's so easy to outsmart 99% of the planet that is still entirely unprepared for what is at hand . And, for what's new in cybercrime, real estate sales is the place to see.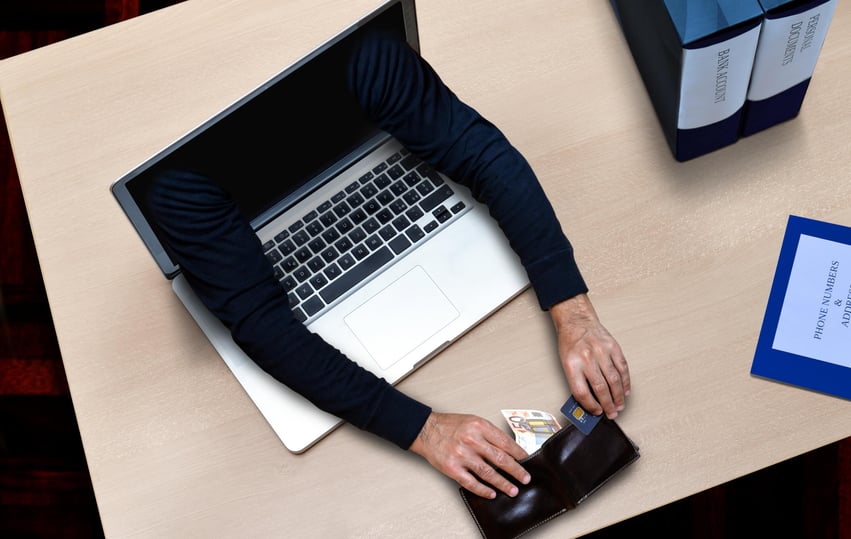 Wire fraud has been a big deal for the real estate sales industry since at least 2014. We've written extensively about it including the Wall Street Banker that made over $50 million dollars a year managing risk and yet transacted a $20 million residence over an AOL email account only to be hacked for the $2 million down payment. This is a great example of why we view what is happening in real estate with cybercrime is a red flag and leading indicator for the rest of us. Consider this:
Even smart people get hacked. We have enough poster-children for the cause including Clinton, Powell, Podesta, et al.

Even if you are protected by an IT department, much less a national security detail of the highest order, you are susceptible to cyber risk. Today and for the future, you are your own front-line - ultimately it is up to you as an individual, head-of-household, or professional advisor to protect.

Real estate transactions are hacked for the personal information. It's all about the information, and a Realtor® or other industry professional are producers of personal information of the highest order including legal and financial documents, bank account details and personally identifying information. It's our stuff the hackers are after, and they are going to Realtors® because they are the lowest hanging fruit. For now.

When money and information are in movement, be careful! Real estate transactions are the most obvious example, but others include estate settlements, lawsuits, and any other financial exchange or trade of goods. Hackers know its coming, and they are gathering what they need to optimally engineer their deed.

The other guy in the transaction - she's your risk too. In the $2 million breach for the Wall Street Banker it was his broker's AOL email account that was hacked.
"Never before has everyone everywhere been more vulnerable to the action of anyone anywhere." Thomas Friedman - from his 2016 book "Thanks for Being Late - An Optimist's Guide to Thriving in the Age of Accelerations."
So, what's next? What's being innovated in crime against the real estate industry that we are bound to see everywhere else before long? Well, wire fraud, along the lines of the $2 million scam we highlight above, has been the real estate industry's greatest cyber risk, and now, as the First American Title company says, there is a new "twist" to the hack. The company explains it this way:
"Over the past few years, First American Title has communicated with its settlement professionals that they are targets for fraudsters due to the large sums of money they are responsible for disbursing in the course of closing real estate transactions. These fraudulent schemes to divert funds continue, and losses to the parties involved are often devastating.

The latest evolution in this theft epidemic occurs after a closing professional has already wired funds to a fraudster's account having relied upon fraudulent wire instructions. The fraudster then initiates contact with the closing professional and poses as the receiving bank for the wired funds, often using a spoofed caller identification to increase the appearance of legitimacy." Michele A. Green, SVP, Senior Business Counsel - Agency Division
Lesson? Never rely on an incoming call for confirmation.
Repeat for emphasis - Never rely on an incoming call for a confirmation of anything that's important.
Here is the First American Title flyer on the matter: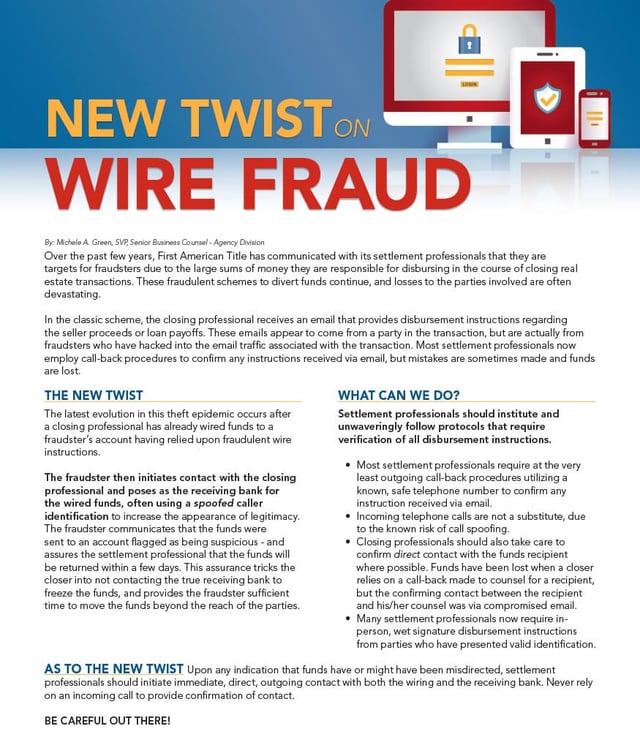 If the cyber scam is happening in real estate, you can bank on it happening in other businesses and professions, and in your personal life too.
Cyber criminals are going to be finding all the clever head-fakes, diversions, and elements of social engineering we would be hard pressed to think up today, to use against us tomorrow and well into the future.
For more about cybersecurity services for Realtors.
What can you do? First, and foremost, especially if you are a Realtor®, get off "free" email. Email is the #1 attack vector for hackers that want your money, and if you are on Gmail, Yahoo, AOL, Hotmail, or any of the public systems, now is the time to "privatize" and take control of the situation. Here's how: