In February, we announced a strategic partnership with Red Five Security from Arlington, VA.
Since 2006, Red Five Security has provided consulting and protection services to corporate executives, U.S. government officials, diplomats, and other high net-worth individuals and families. Red Five's management and consultants are former CIA, FBI, U.S. Secret Service, and U.S. Military security professionals.
The alignment with Red Five Security is a natural step in the evolution of TDS. Here's why.
The Merging of Physical and Digital Risk
The last 25 years or so have redefined risk and risk management. Beginning when the internet went mainstream, cyber has played an increasingly predominant role in "traditional" risks, like threats to financial and physical well-being.

Today, all risks, including physical and financial risk, personal safety, and individual well-being, are increasingly cyber-related. The ubiquitous nature of digital laws drives the internet and assures this trend is the case. These same digital rules are hard-coding the future, too - cyber will play a more significant role in all risks we face as individuals and groups.
✓ Cyber will continue to grow as the dominant factor driving all risk elements - physical and digital, individual and collective.
The Red Five Security Partnership
The combination of TDS' cybersecurity expertise with Red Five's depth of experience in physical security is unique. The partnership will provide our respective clients with a broad security platform integrated with superior solutions and personal service.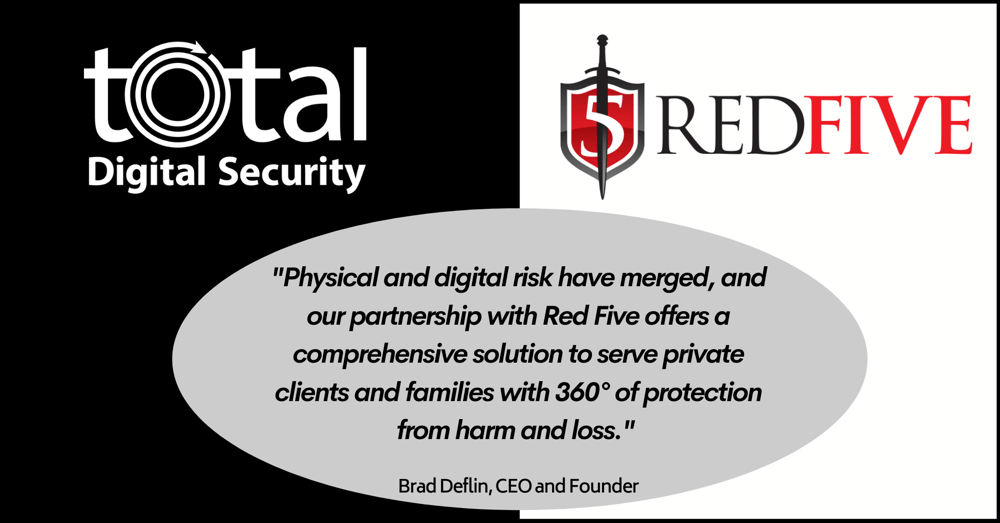 According to Kris Coleman, Owner, and Founder of Red Five Security, partnering with Total Digital Security strategically positions Red Five to be prepared for new challenges as they arise.
"Families and Executives want to work with service providers who are reputable and fulfill all of their needs. Red Five and Total Digital Security together fulfill their needs, and from two providers who have a long-standing commitment to excellence. We are thrilled to partner with Brad and the Total Digital Security team."

Kris Coleman, Owner and Founder of Red Five Security. https://red5security.com
Kris is a security industry leader with a long record of success serving clients around the world. In April, he'll be in New York City at the East Coast Family Office & High Net Worth Annual Conference to present on how a family office can proactively protect the family's physical and financial wealth during these challenging times.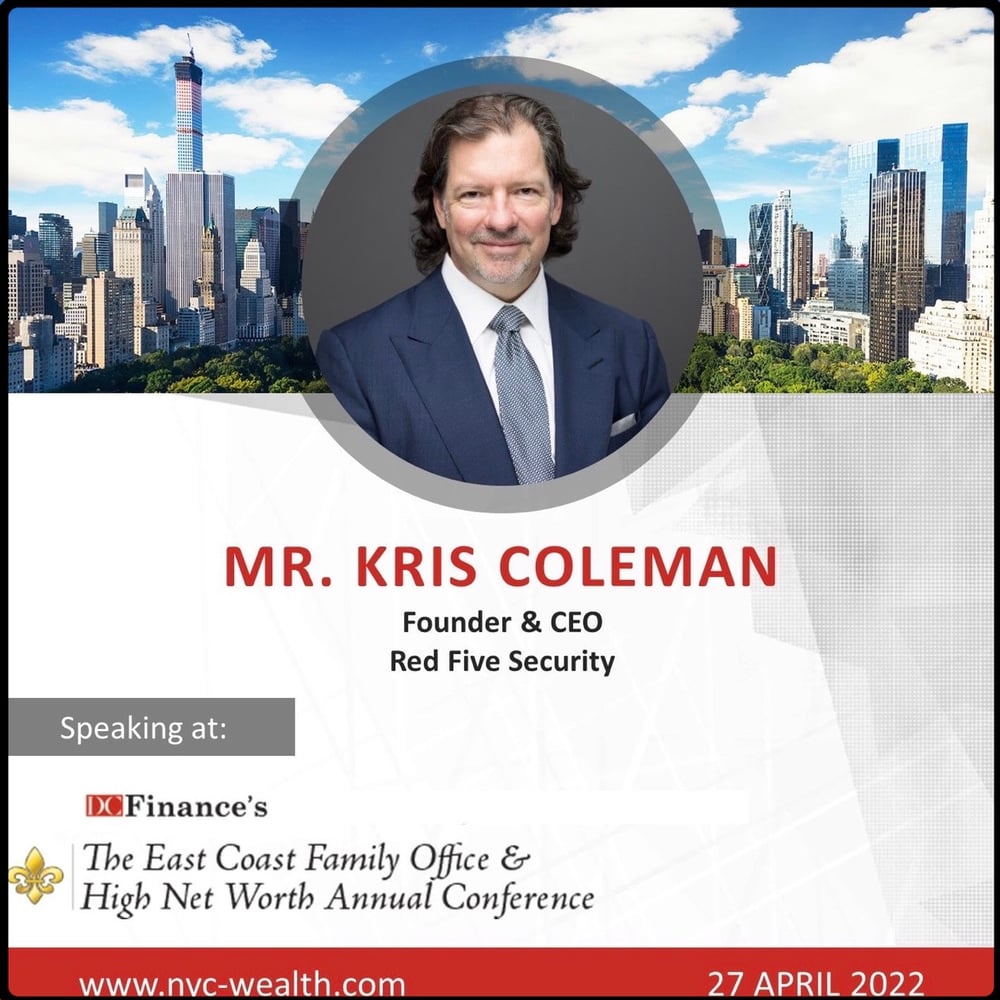 Red Five is an impressive firm, and its leadership shares our vision and passion for protecting private clients. All of us at Total Digital Security couldn't be more excited about the prospects for the partnership with Red Five.