This letter was originally sent to First Lady Mrs. Trump on December 6th, 2016 by our VP of Marketing, Diane Kisner. To date, we have not received a response.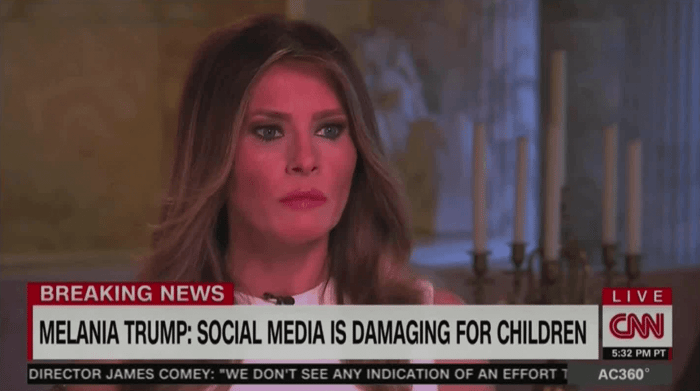 Dear First Lady Elect,
I was struck by your recent comments and expression of commitment toward fighting "cyber-bullying" during your tenure as our nations First Lady. Since 2013 my business partner and I have been working with families and children around the topic, as well as the myriad of other risks that are emerging for individuals and families as a result of society's transition to the new Digital Age.
In 2012 my partner, Brad Deflin, started talking to his ultra-high-net-worth clients about their "The New Face of Risk" in his role as Senior Banker at JPMorgan in Palm Beach. Brad's clients were enormously appreciative for the content and guidance, and encouraged him to expand on the notion by creating a company that would serve individuals and small groups with respect to the matter. In 2013 he started Total Digital Security (a Florida "C" corporation) to uniquely serve markets that were not receiving the type of guidance and solutions they needed for survival and success in a future surrounded by technology and online connectivity.
Brad and I are pioneers in bringing advanced cyber-security technologies and practices to individuals, families and anyone that does not have an IT department to manage and mitigate the risks. Besides families, our market has grown to include small professional practices, family offices, real estate agents and brokers, and many others that seek "digital autonomy" and "Cyber Security for Life."
Whether young or old, rich or poor - no one likes to be bullied, and many are beginning to understand that cyber-self-defense is a crucial skill for the future; personally and professionally. They are taking personal responsibility for the matter, and we are inspired to empower them in the process with knowledge, understanding, and the remarkably effective innovation coming from the IT security field today.
Total Digital Security's work is focused on the intersection of people, the technology they use every day, and the elevating risks at hand. Our four years of experience provides us with unique observations and data that we in turn use to better serve our clients. More recently, over the last couple of years, we have been invited to share our knowledge with a variety of audiences, large and small, and as a result, we now have a second division we call "Education and Training Services."
We are engaged with the Florida Bar, the Florida Department of Professional Regulation, and a couple of large, multi-billion dollar companies find our insights and services helpful to their cause of transforming their respective cultures "from the board room to the break room." After hearing your comments I could not help to think: "Our past four years could help Mrs. Trump in the next four years."
I am highly confident our experience and perspective would be valuable to our country as cyber-risk is not a technology problem, but is a social problem. The solution is not just in the hands of the IT department, the Pentagon, or large corporation, but is people-centric and to be successful mitigating the risks and potential consequences we must start with the individual by nurturing new sensibilities crucial to our success as a nation.
For your reference we have published several blogs on www.totaldigitalsecurity.com/blog that I know you will find interesting - it is leading edge material as it pertains to people, technology, and risk. A few noteworthy ones are:
Mrs. Trump you have shown tremendous insight by expressing your focus and commitment to cyber-bullying as our First Lady - perhaps no one appreciates that as much as we do at Total Digital Security. So - THANK YOU! And, if you think we can be of assistance to you and our country in your new role, I hope you will call on me soon.
With very best regards, and wishes for great success as our nation's First Lady.
Sincerely,
Diane Kisner
VP - Marketing
Total Digital Security
December 6th, 2016