Embry-Riddle Aeronautical University has graduated six astronauts, provided the airline industry with more pilots than anywhere else in the world, received U.S. News and World Report's #1 rating for its engineering programs, and boasts top starting salaries for its graduates and their return on investment for tuition. Now this 90-year-old institution, revered for generations as the "Harvard of the Sky", is building a world-class Security Studies and International Affairs Department. As a graduate and former pilot, I visited the Daytona Beach, FL campus to find out

why.
---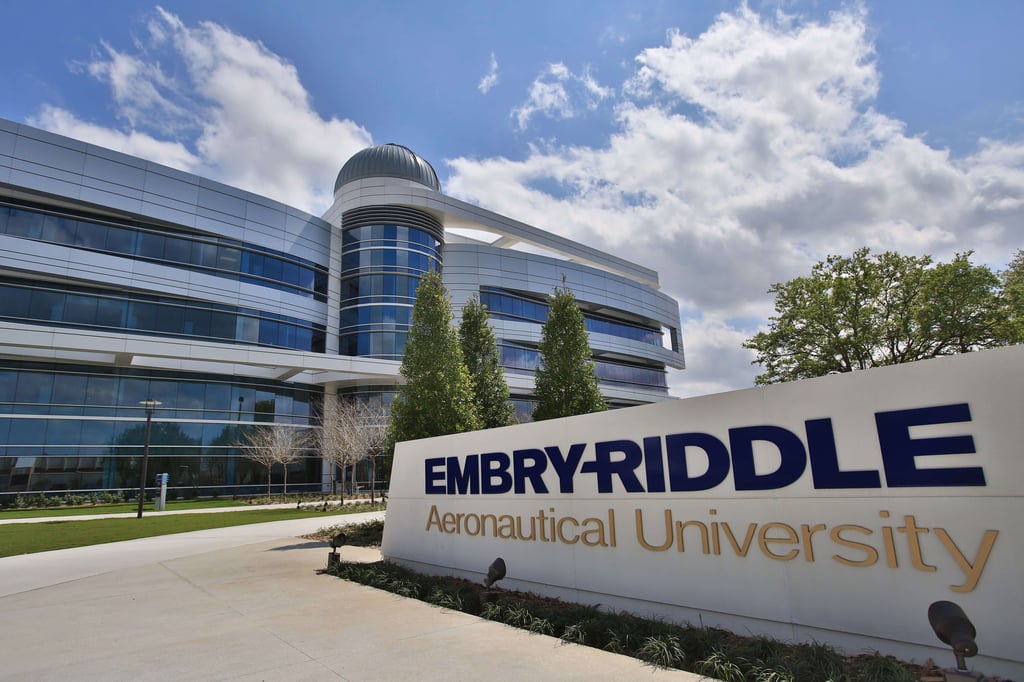 With its record of academic excellence, it's no wonder that ERAU has been called "The Harvard of the Sky" though students, graduates, faculty, and others familiar with the university prefer to think of Harvard as "The Embry-Riddle of the Ground."
---
While my association with the University goes back decades, every time I visit I am struck by the extent and quality of its progress; evident in the visual changes brought about by new buildings, fresh art, and the cool stuff collected after so many years at the forefront of all things aviation.
Contrasting this change is the consistency of Embry-Riddle's culture and on-campus energy. People come here because they have a focused view of what they want to do, and they gather with a deep sense of common passion and purpose. Administration, faculty and student body alike are driven by a sense of individual and collective destiny, proud of their heritage, and committed to excellence in their chosen fields. To me, it's this dynamic combination of change and consistency that will continue to fuel the University's remarkable success.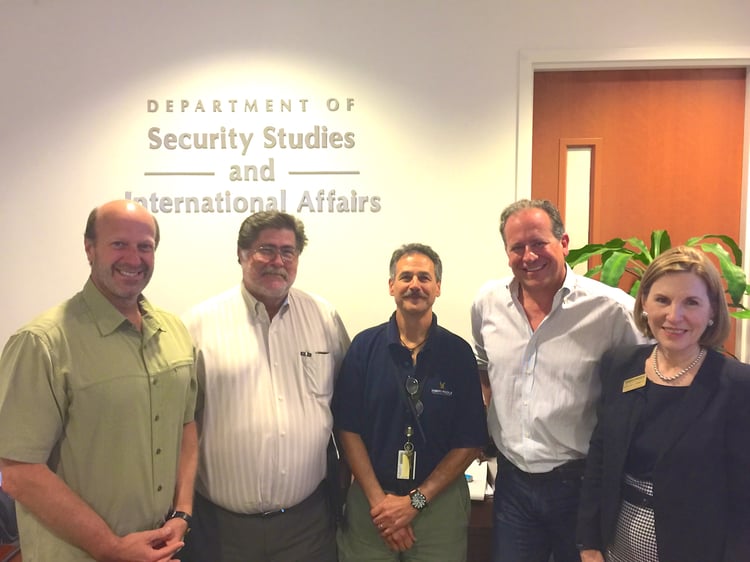 Hosting my day on campus was Kathleen Hennessy, Director of Development at the University. Chair and Professor, Dr. Jim Ramsay has led the development of the Department of Security Studies and International Affairs since its establishment in 2006. Joining him at our meeting was professor Dr. Gary Kessler and associate professor Dr. Glenn Dardick, a leader in digital forensics.
---
First, some context. ERAU's almost century-old record includes pioneering academic programs in fields such as:
Aircraft flight and maintenance.

Air traffic control.

Aircraft accident investigation.

Space exploration and the solar system resources economy.

UAV's and unmanned aircraft systems.

Aerospace engineering
This list just scratches the surface, but my point is: what does a Department of Security Studies and International Affairs have to do with aviation? With deeper insight, it is clear.
Embry-Riddle's distinction isn't just about aviation but is derived from its uncanny record of spotting new, emerging industries that would eventually become vitally important economically, socially, and to keeping our nation secure and at the forefront of the global arena.
Like aviation in the 1900's, international security is the mega-industry of the 2000's and true to form, Embry-RIddle is demonstrating an unwavering commitment to developing research and discovering the knowledge required for its students and faculty to propel the subject well into the digital age.
"Like aviation in the 1900's, international security is the mega-industry of the 2000's and true to form, ERAU is at the leading edge, developing research and discovering the knowledge required for its students and faculty to propel the subject well into the digital age."
Considering my long-held respect for the University and an understanding of its deeply entrepreneurial culture and tradition, I came to my visit interested in the strategy and curriculum for the still nascent field of its latest undertaking.
The "why?" of their newest program is interesting, especially when considered in contrast to its legendary stature seemingly unique to aviation, but for me and my commercial interests in the field of cybersecurity, it was the "who and how?" elements that held special intrigue. After a day on campus, I came to appreciate the remarkable insight Dr. Ramsay and his faculty at Embry-Riddle are bringing to the field, and how they intend to prepare their students for the massive changes and challenges that lay ahead.
Developing technology to monitor, measure, analyze and defend the dynamic nature of information-based security is of crucial importance, of course, but not the greatest challenge we face in the matter. The U.S. has long held leadership in the space of technological innovation, and I'm confident this tradition will continue steadfastly into the future. In fact, I'm betting we will see better, faster, easier, and cheaper security solutions coming along regularly for years to come.
Exponentially progressing technologies in IT security are being fueled by fresh capital and with some broad, socially oriented focus and commitment from the public and private sectors alike, the ability to hack maliciously will no longer be a mainstream sport driven to frenzy by irresistibly easy wealth. Like everything it touches, the Internet has democratized cyber-risk and in the immediate years ahead; so will it cyber-security solutions.
The biggest challenges ahead for security are not technological but are social. The rapidly increasing chasm between advancing technology and our ability to integrate it safely into mainstream life is now forcing us to reinvent how we think about almost everything we do. Embry-Riddle is always interested in big problems and correspondingly the bigger opportunity. It's approaching the new era of security with a social sciences view, positioning itself to play a significant role in research and development of the new knowledge required in an information-based society.
Once again, ERAU finds itself at the footsteps of daunting academic potential, and commercial-application opportunity.
From the highest echelons of global leadership including governments, militaries, public and private enterprise, it is acknowledged that the greatest risk at stake today and for the foreseeable future is in the realm of cyber-risk and information security. And, It's accepted that "cyber-armageddon" is not the primary concern but it's the "low-to-moderate" threats that are doing the most damage.
Today, it is not possible to discuss risk on any level without the application of cyber-security. Eventually, to truly manage and mitigate the security risks of an information-based society, local, state and federal government must align with the private and non-profit sectors to bring about significant reforms that enhance privacy, reduce cyber-threats, and protect personal information within the realm of our every day lives.
By insightfully taking a social sciences approach to the issues, and with its rapidly growing Department of Security Studies and International Affairs, ERAU is doing its part by preparing its faculty and students to confront the challenges that face our nation and global society today, and for many, many years to come.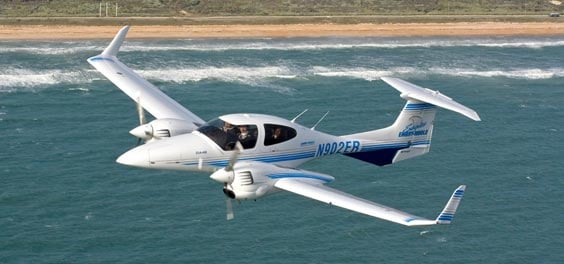 An Embry-Riddle Aeronautical University training aircraft just off the shores of its home campus in Daytona Beach, FL.