Online resources and help for Device Protection for Windows, Macs, and Androids.
Installation Instructions:
For Microsoft Windows Devices.
For Apple computers, including iMac, Mac Pro, and MacBooks.
For Android PSB Mobile Security.
* Top Issues for Support:
* About the Red-X on your Mac

If you see a red-x on your Mac after installation, see FAQ #8 below for instructions and next-steps.
* Apple Mac Blocks Installation of F-Secure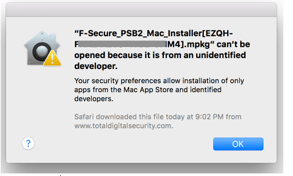 If your Mac is blocking the installation with this error message, go to your computers' System Preferences > Security and Privacy > General > Allow Apps from App Store and identified developers.
* ShieldTest is blocked by F-Secure

If you are being blocked when running ShieldTest, see FAQ #15, below.
* Mobile Security for Android - update release notes, Nov 2019. Click to download.