Device Protection
Protects from viruses and malware, data loss, malicious applications, intruders, and the host of threats your technology faces online every day.
Complete the pre-purchase form on the right to receive an email with payment instructions and immediate access for download and installation to your devices.
You will not be charged with this step - it is only to evaluate your needs, and provide you with an accurate price quote.
$69 per year, per device. iOS devices do not currently require this protection.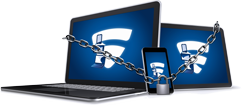 Enterprise-grade protection service by F-Secure. Click here for more information.